Peer into The Thought Process of the FPOA
UPDATE: Here is a post from waaaay back in November, 2010 about how our police union leaders view the political process and their ability to manipulate it to their own advantage. Of course the egregious Andrew Goodrich figures prominently in our post. Be sure to read the last sentence!
Just in case you thought there was any doubt that public service might not be the number one priority of Fullerton's boys in blue, take a look at the document below, a veritable "how-to" article on political influence written in 2003 by FPD PIO and union front-man, Andrew Goodrich.
See, it's all about how to leverage your members dues to create a political machine and get what's coming to you. Actually it's about defining what's coming to you and getting a subservient collection of clowns you elect to go along for the ride.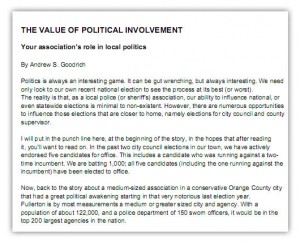 Read "The Value of Political Involvement" (pdf)
I especially enjoyed Goodrich bragging about batting one thousand. The record looked great in 2003, but then the wheels started coming off the squad car. Chris Norby and Shawn Nelson jumped ship PDQ (although Norby stayed on the Police Reservation long enough to vote for the obscene 3@50 deal in 2001, thanks Norby). The pitiful police-backed pipsqueak Mike Clesceri was tossed out in 2004 after a mere one term; and ditto the equally useless Leland Wilson who was just a bad memory by 2006.
In 2010 the union backed a geriatric of dubious mental competency, a poster boy for pension abuse, and a guy who dodged criminal responsibility by giving his DNA to the DA. Hey two outta three ain't bad – for them. For the rest of us? Not so good!
And here's a little bit more about Mr. Goodrich: promoted to "Community Services bureau leader – and police public information officer" last January as chronicled by Barbara Giasone:
http://www.ocregister.com/articles/goodrich-230504-police-fullerton.html
Goodrich also signed the May 3, 2010 MOU on behalf of the FPOA, along with Barry Coffman and Robert Kirk.
And just in case you feel your tax dollars that pay for 3@50, etc. are insufficient thanks to the police for all they do you can always help out some more. Here's a solicitation we received from the FPOA just yesterday. Your gift is supposed to go to FPOA "community outreach" but IS NOT tax deductible. Hmm. You get a decal of a police badge.
In closing I really feel compelled to wonder whether or not any of the three worthy gentlemen named above have been posting comments on our blog.