Pat McPension Speaks! Um, Well, Spoke…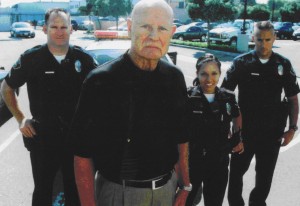 Fullerton City Councilman and former Police Chief, Pat McPension ain't sayin' much these days, at least nothing that isn't getting him in even deeper in the City's cover-up of the Kelly Thomas homicide at the hands for six Fullerton cops on the sultry night of July 5th.
But take a quick trip to Fullerton Stories and listen to then candidate Pat McPension in the fall of 2010.
Enjoy Pat's list of repuglican endorsements, including DA Tony Rakauckas (!) and also the rear guard of decrepit liberalism in Fullerton, Molly McClanahan and Jan Flory.
Also enjoy Pat's observation that it's a good thing when nobody shows up to public meetings! Check. It's a lot easier to cover-up what you're doing when nobody is around (except "journalists" who regurgitate City Hall press releases and toss up softball questions). And of course nobody will be there to call you out on the serial misdeeds of your police department. The one you were in charge of for 17 long years. Remember, Pat? Yes, when you hired thieves, thugs, pill-poppers, sexual predators, kidnappers, perjurers, one-eyed LAPD rejects, killers of unarmed homeless people (and who knows who else) to patrol the mean streets of Fullerton.
Suffer through McPension's bogus concern about out-of-control public employee pensions, and reflect upon the sad fact that in eight months on the City Council he hasn't uttered so much as a tiny squeak on the subject.
In 2010 Pat promised to "hit the ground running." Boy, that sure turned out to be a big elephant splat on the pavement in 2011.