More 2011 Fringie® Follies: Scariest Ghost of Fullerton Past
When the sun rose on January 1, 2011, who could have foreseen the strange and disturbing circumstance that would produce a veritable cavalcade of scary ghosts from Fullerton's olden days.
Sweet Baby Jebus!
And who knew that so many vaporous remnants of Fullerton's horse and buggy days would be putting in appearances to remind us of the bad old days before talking pictures and x-rays.
Damn Recall!
1. First we heard the name A.B. "Buck" Catlin, supporter of the anti-recall crew, and inveterate staff stooge/big government RINO when he was on the City Council in the 1880s. Catlin was a proud supporter of every Redevelopment boondoggle in Fullerton's history; and some that were so hare-brained even his pals wouldn't support them. How frightful! Good Old Buck was recalled alongside Don Bankhead and Molly McClanahan for promoting a totally unnecessary utility tax. Wow, things don't change much around here, do they? Shriek!
2. Another scary ghost reappeared to support the Three Dithering Dinosaurs: the hideous spectral phenomenon known as Linda LeQuire. Linda's image does not appear in mirrors or photographs so you'll just have to take our word for it. She also popped up to haunt Fullerton two years ago, so I guess we're just going to have to get used to these biennial visitations! Brrrr!
3. Then there was the horrifying and serial re-appearances of my former, broomstick wielding mistress, Jan Flory. Like her former colleagues she too glady voted to approve an illegal 10% tax on your water bills. Even her offspring are creepy. That's enough to make you cough up your kibble! EEK!
4. Some purists may quibble that Molly McClanahan can't possibly be a eerie apparition since she is actually an elected member of the North Orange County Community College District Board of Trustees.  But if that isn't an insubstantial graveyard I don't know what is. Like Catlin, and Bankhead, McClanahan was recalled in 1994 for backing that shameful utility tax; her eerie manifestation in defense of the indefensible Three Sluggish Sloths says all that need be said about this transparent emanation.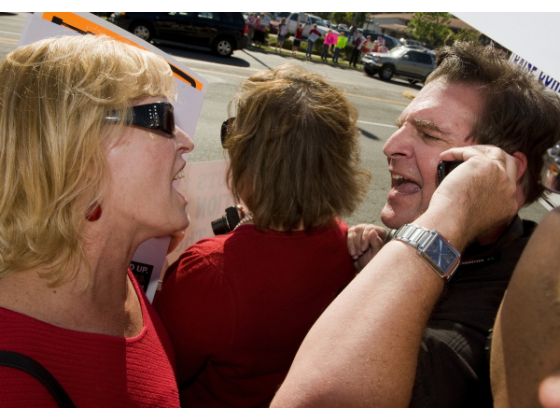 5. And finally, in 2011 we were treated to a horrifying visitation from the Great Beyond in the vacuous form of former city councilwoman Pam Keller. Don't be fooled by any apparent substance. There's no there, there.
First she showed up to scream union slogans into a radio show mike; later she appeared at a city council meeting in some sort of cryogenic suit. If that don't send you shrieking into the night then I don't know from Milk Bones. Boo!
Feel free to run screaming into the night, yourself.