Another Fringie®! Best Image of 2011
Due to reasonable requests from Friends for additional images, the Nominating Committee reopened the selection process and has generously included additional images for consideration.
– JFD
In one of our most popular categories our Nominating Committee considered images from 2011 that aggravated our collective angst, that seared our frayed synapses, and that moved us to laughter, rage, tears, blood and sweat. Such mind-numbing work can only be assuaged by mind-numbing medication, and so the Committee found itself self-medicating frequently and without any of the controls imposed by people who control controlled substances. Controcontrolcontrolcontrolcontr…okay where was I?
Oh, yeah. Best Image Fringie® 2011. Here are your nominees:
1. Smirking police spokesorifice Andrew Goodrich. This image of utterly smug self-satisfaction, bloated self-worth, utter disdain for the civilians that pay his engorged salary and pension, and utter disdain for the truth came to symbolize a dysfunctional police department. Image and behavior in perfect synchronization. This picture is going to be hard to beat.
2. Ahoy there, matey. Back in late summer former Fullerton police sergeant Arthur Wiechmann deigned to visit our humble blog to defend the killers Ramos and Cicinelli. He left a slime trail that was quickly traced back to his own website. And what we found there was pretty creepy. In case you were wondering, yes, Swinging Loverboy is a proud member of Fullerton's $100,000 club.
3. Until their mug shots graced world-wide news media there was no face to the cop side of the brutal beating death of Kelly Thomas. When Ramos and Cicinelli became the Faces of Fullerton to the world, the true extent of Pat McKinley's disastrous stretch as Chief of Police became evident to all except the most delusional. If you can discern an iota of humanity in these photos, God bless you.
4. Back in September Fullerton opened it's new library remodel and conference room. While only a few hundred feet away a "lynch-type mob" protested the murder-by-cop of an innocent man, a crazed Doc Heehaw and His Business as Usual Co. got tough with an over-sized scissors. Which just goes to show that when the going gets tough, the tough get to cutting ribbons.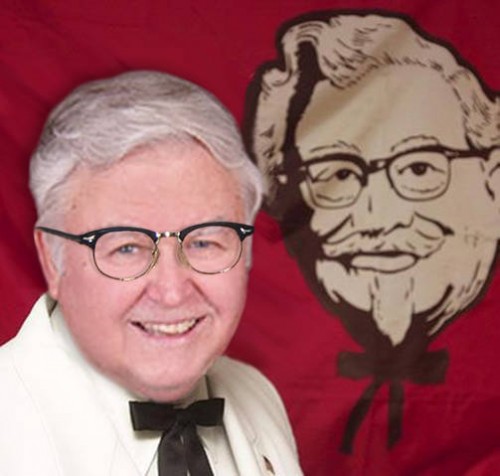 5. Colonel HeeHaw as Colonel Sanders. Any resemblance is purely coincidental.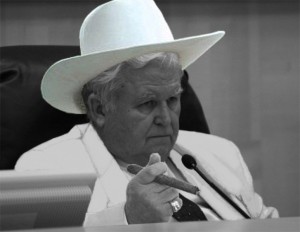 6. Boss HeeHaw as Boss Hogg. All hat and no cattle. Any resemblance is purely coincidental.
7. The She Bear, Pat McMcKinley lumbered through our collective consciousness in 2011, leaving copious amounts of She Bear scat in his wake. This picture resonated with the Nominating Committee as one of the great reflections of hypocrisy anybody could recall. See, if you're one of Pat's "Special Ladies," you are not credible and your claims to have been sexually assaulted by one of McKinley's cops is unbelievable.
8. This cheerful image of former City Manager Chris Meyer surfaced in connection with the bloatation of Fullerton's $100,000 pension club. Meyer cashes a $14,300 pension check each and every month so he doesn't have to worry where his next meal is coming from. As City Manager the Meyer oversaw a Fullerton Police Department that sank into its current Culture of Corruption.
9. Thanks to Friend JT for reminding us of this fun still harvested from an entertaining video about police union boss Barry Coffman handing out citations for "excessive horn honking" a new Vehicle Code violation cooked up by the Fullerton Police Department to harass protesters. For sheer overfed haplessness there's just no getting around this image. That the haplessness is accompanied by a badge, a gun, arrogance, and self-entitlement should give all freedom-loving people cause to reflect.
10. Since Time Magazine© has named "The Protester" as Person of the Year, it seems fitting to give due notice to Kelly's Army for their diligent two-month protest in front of the police department. To all the protesters right, left, and center who joined together, God bless you.
That's enough abuse. Who will take home the coveted Fringie©? Stay tuned and find out!