It Takes Courage To Say No
A while back we did a post about the value of saying NO. Today let's look at someone else who appreciated the importance of putting one's foot down: the two-term President Grover Cleveland.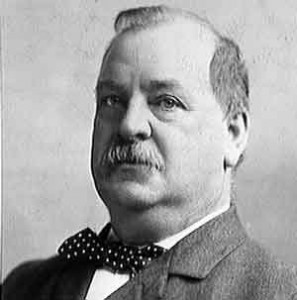 Back when Grover was the Governor of New York, he said "no" when Chatuatauqua County proposed to spend tax dollars for a soldiers monument. He said "no" to the Fredonia Library Association, which sought to be relieved of paying local taxes. He said "no" to the town of Elmira, which tried to avoid liability for personal injuries occurred by those traveling its unsafe streets and roads. He even said "no" to Fayetteville, his boyhood hometown, when they wanted to borrow money for the purchase of a new steam fire engine.
Cleveland kept his promise that he would be a guardian of the people's interest, which meant guarding the keys to the people's dinero.
Why is this relevant? Because saying "no" to police unions, fire unions, teachers, prison guards, custodians, bailout bankers, and subsidy-sucking union allies is often the right thing to do.