How To Manage A Lynch-type Mob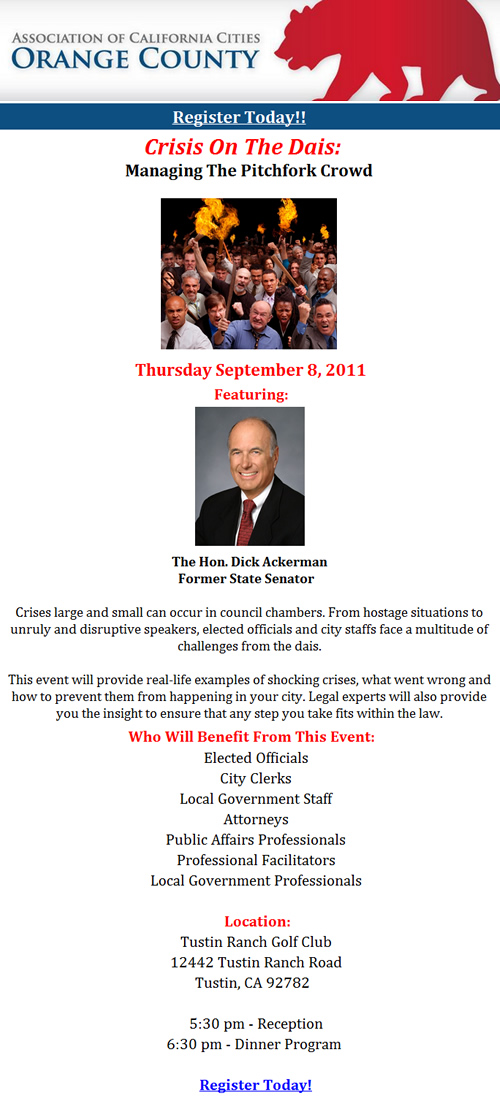 The Orange County Association of Cities is an organization of repuglicans who just can't stand the thought of big, authoritarian government unless they are milking it for all it's worth. So it is fitting indeed that this operation should employ former Fullerton City Councilman and State legislator, Dick Ackerman, to teach its members how to "manage" a lynch-type mob (us). Such management presumably means deception, flattery, cajoling, bamboozlement, and ultimately doing nothing.
The choice of Ackerman cannot have been accidental, for he is one of the biggest enemies of government transparency in the State. You may remember some of our posts on Dickie Boy. We busted him cooking up a fake address in Fullerton so his old lady could carpetbag her way into the Assembly and perpetuate Dick's cozy relationship with big lobbyists. Speaking of lobbyists we also uncovered the Ackermans' scam non-profit, a gig run by lobbyists to pay for Hawaiian vacations for Dick and his slimy pals in the Legislature. And then of course there was the OC Fair scandal in which Ackerman illegally lobbied his former colleagues in Sacramento. Ackerman's own billings did him in when exposed by our friends at the Voice of OC(EA). (Parenthetically, the latter incident was the subject of a DA whitewash – hmm).
Ironically, Ackerman has been on of the biggest supporters and promoters of the immensely incompetent and arrogant Three Blind Mice, who presumably, can be relied upon to trek down to the Tustin Ranch Golf Club and hobnob with their repuglican kinfolk and learn from the Dickster all about "shocking crises and what went wrong."
Come to think about it, maybe Bankhead, Jones, and McKinley should be teaching this course; that is, if they are capable of learning anything at all.