Who cares about the homeless and mentally ill? Lots of people, it seems, but only some of them were approved to serve on a task force investigating the issues on behalf of the city. At the city council's most recent meeting on September 20th City Manager Joe Felz presented a proposal entitled Fullerton Task Force on Homelessness and Mental Health Services. The city council had asked for such a proposal during a previous meeting on August 16.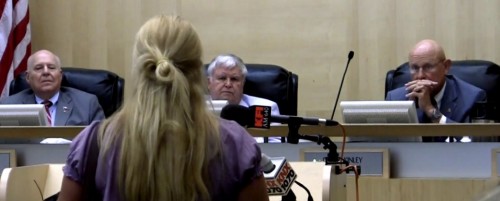 The staff identified five specific tasks for proposed group, and went so far as to recommend sixteen people as members. They included representatives of various non-profit organizations and churches and for some reason the Fullerton Chamber of Commerce, as well as three individuals, including Ron Thomas, father of Kelly Thomas. OC Human Relations Commission CEO Rusty Kennedy was proposed to lead the group.
About a dozen people from the public spoke to the issue or ranted about unrelated homeless issues. A few of them offered their assistance as prospective members of the task force, including people who described themselves as homeless or formerly homeless. Mayor Dick Jones suggested that the membership of the task force could be determined at the next council meeting. Perhaps he either did not understand that the council was recommended to adopt the supplied list or did not agree with it. Don Bankhead rambled about having known Rusty Kennedy's father and said he was extremely glad about something or other that can't quite be heard in the tape because he habitually does not speak into his microphone.
Both Bruce Whitaker and Sharon Quirk-Silva supported making the task force as inclusive as possible. Whitaker suggested that of the five tasks identified, it might be best to hold the fourth one listed in the proposal first, namely to hold a public forum to solicit ideas on the subject. Quirk-Silva, noting that the idea was not to duplicate already existing services, made a motion to move forward with Whitaker's idea.
But Pat McKinley would have none of it. He offered an alternate motion to approve the task force membership list recommended in the proposal, but curiously left off the three unaffiliated people, Kitty Jaramillo, Janice DeLoof and Ron Thomas. Bruce Whitaker characterized McKinley's proposal as "the epitome of top down organization," saying that it would bring no new energy or ideas to the task. Quirk-Silva joined Whitaker in voting against McKinley's motion, but McKinley was predictably joined by Jones and Bankhead, although Jones did clarify that other members could be added to the group later.
It cannot be stated too often that homelessness and mental illness are real problems for many people, but addressing those issues should not be confused with seeking justice for a man beaten to death by police officers. Even so, it is remarkable to watch the video of the meeting to see Jones, Bankhead, and McKinley treat yet another problem with the wrongheaded approach of excluding people asking to be included in a solution. In the words of a later speaker, they squandered the opportunity to engage the very public who had been criticizing them week after week for their inaction in the face of a crisis. In the end the Three Arrogant Amigos proved once again that institutions trust institutions, and individuals need not apply.