"They Killed Him." New Video Shows Aftermath of Fullerton Police Beating
Friends for Fullerton's Future obtained this video footage from an OCTA bus that pulled into the Fullerton Transportation Center moments after the vicious beating of Kelly Thomas by Fullerton police on July 5th. Listen to what these witnesses have to say:
Our transcription of the recording is here.
This new video is more compelling evidence that excessive force caused the death of Kelly Thomas. First there was the video where the homeless, mentally-ill man's cries for his father can be heard as he is beaten and Tased:
And then we saw the shocking photo of Kelly Thomas before he died, which has now been widely broadcast on network television and news websites around the world: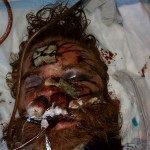 But still, the majority of Fullerton's city council have refused to release the video that clarifies the police actions that lead to the death of Kelly Thomas on that night.
While we stand shocked at the brutality laid bare under their administrative watch, they quietly whisper behind closed doors, delay, obfuscate, make excuses and ignore the cries of the public for answers.
The people of Fullerton deserve to know right now: Are we safe from our own police?