SORDID SEXUAL ASSAULTS IN THE BACKSEAT OF FPD PATROL CAR?
For some folks sexual fondling in the backseat of a car may evoke happy memories of teenage hormonal overload and good clean fun. But when you're handcuffed by a police officer on trumped up charges only to be sexually groped by that cop, things take on a much more sinister character.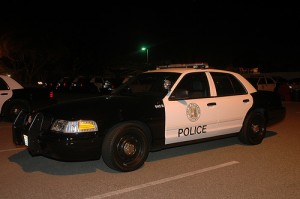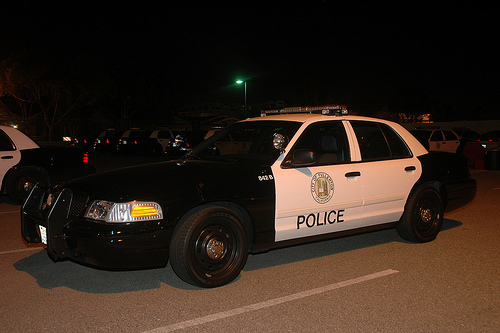 Like sexual battery and federal civil rights violations, just for starters.
Here are the stories of two women who claim that Fullerton cop Albert Rincon, aided and abetted by Officer Christopher Wren essentially kidnapped them and sexually assaulted them in 2008 while they were in custody – in the backseat of Rincon's patrol car, to be precise. Rather than rehash the story, I'll let you read the complaint filed in federal court. Checkout pages 5 through 12 of 35 for the sordid details.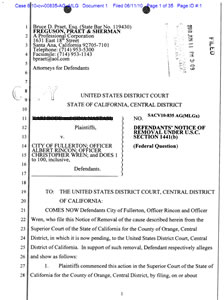 Three long years later the case is winding its way through the court system toward a November 2011 trial. The case found its way to the federal courtroom of Andrew Guilford, who knows all about pervy cops – having presided over the Michael Carona corruption trial. Check out the Joint Conference Scheduling Report: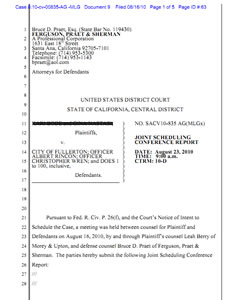 Note #1: the City of Fullerton offered the victims $7,500 to settle; and the alleged victims assert that the City knew of Rincon's prior history of sexual misconduct! I wonder what that history was.
Note #2: The DA never prosecuted the alleged victims for any crimes related to their arrests. Is Rincon a Brady cop?
Note #3: the City's lawyer, Bruce Praet is the same charming individual who allegedly offered FPD beating-death victim Kelly Thomas' dad a cash settlement before threatening to drag his mentally ill son's name through the mud; and that before "all the facts were known," an admonition the cops seem to think only applies to us citizens and taxpayers – not themselves.
Fullerton, this is your out of control police department; it is enabled and protected by  majority of your city council. What the Hell are you going to do about it?