Cop Union President Barry Coffman Identified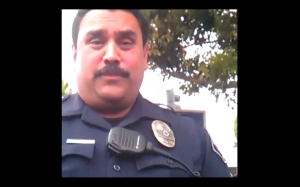 UPDATE: Please note Coffman's admission: "This year, my first citation".  So he obviously took on this assignment to harass citizens out of the sheer joy of it. And there you have it. Your tax dollars at work.
The other day we shared a video here of the Fullerton Police Department's PR disastrous anti-honking ticket strategy. Of course it was justifiably greeted with a hail of scorn and outrage and was ridiculed across Southern California as blatant harassment of peaceful protesters. Egad, another FPD humiliation. Another day another embarrassment!
Oh, well, I guess when you don't have a sense of shame it's impossible to be shamed.
What went unmentioned in the video was the identity of the well-fed cop who handed out the ticket to the protester who had the temerity to honk for justice for Kelly Thomas. Well, I know who this churlish individual is.
No surprise! That's Fullerton Police Officer Association President, Barry Coffman – the head union goon who got The Three Blind Mice McKinley, Bankhead, and Jones elected in the first place, and then watched in satisfaction as these three clowns handed over Fullerton to his union comrades.
Barry says he is smirking because he gets so much job satisfaction. But Barry won't be smirking for long. Whatever the DA does there will be Federal and civil lawsuits coming FPD's way, and likely punitive damages against the McKinley Six.  And that's not going to be hushed up as usual. And he's got an anti-recall campaign to finance with three elderly orangutans who have finally been exposed as utterly incompetent.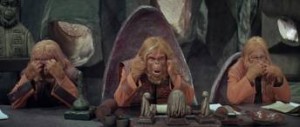 Smirk on that, Barry.