What kind of circus is FSD Ringmaster Lynn Thornley running? One that promotes kiddie antics and award ceremonies over legitimate board business.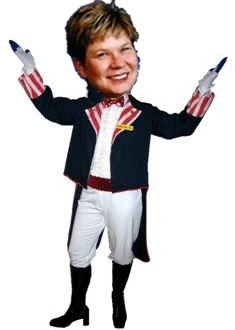 The hyper-analytical Chris Thompson put together this chart of FSD meeting time spent wallowing in tomfoolery vs. legitimate school board business:
In Tuesday's meeting, Thompson was fighting to bring an end to former Superintendent Cameron McCune's laptop extortion scheme (thousands of dollars taken from parents by pressuring them to buy expensive Apple laptops.) But Lynn Thornley did everything she could to cut off debate and move to a quick vote HERE.
This haste occurred in meeting of which over an hour was dedicated to Cub Scout flag ceremonies, awards, various glad-handing, and a lady dancing around with a quilt over her head.
No joke:
The end result? Watch here as Thompson makes his case to end this boondoggle, debate is cut short and Trustee Berryman is run over, abstaining on an issue because she wasn't given a chance to ask questions. The decision was rammed through anyway, leaving individual families to spend about $174,000 of their own money to keep this sinking technology program temporarily afloat.
Total time spent on legitimate discussion: 18 minutes.