Anti-Recall Bozos Step in Own Droppings. Again.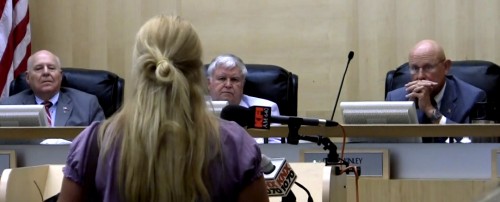 You would think that politicians who have been around as long as the Three Deaf Dinosaurs would at least have enough savvy not to advertise their own misfeasance in office. If you thought that, boy, would you be wrong.
On their website the other day they were blaming the Recall campaign for making an issue of their illegal utility tax that's been hidden in our water bills. Of course they have to explain that it's been around for a long, long time; which doesn't make it any more legal – or ethical. See, the City has been raising $2,500,000 a year by tacking a 10% increase to the amount of your water bill even though there has never been any justification for what is supposed to pay for some sort of "overhead" provided by the City to the water utility.
This big pile of money has been siphoned directly into the General Fund where it has contributed to the salaries, stipends and pensions of Don Bankhead, Dick Jones, and Pat McKinley and all of McKinley's boys and girls currently on "administrative leave." Last spring Mayor Jones defended the ripoff  here because it would pay for police – obviously people who have absolutely nothing to do with getting that water into your bath tub. And that's illegal.
The funniest part of the attack on the Recall is some idiot named Larry Bennett's ridiculous challenge to water rate payers to find any evidence of the this tax on their water bill. Larry even promises to pay your bill if you can find it.
Which begs the question: how stupid can these assclowns get?
Of course the 10% utility tax can't be found on our water bills. It never has been shown on them. And that's another one of the reasons it's been illegal!