Ahoy There Matey! FFFF gets a Visit From an FPOA Alum!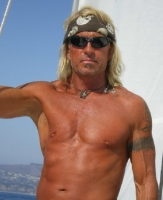 This is really too fun to pass up.
The other day we received an unsolicited visit from some guy named Art Wiechmann who claims to be a 57 year old retired sergeant in the FPD.
That certainly squares with this gentleman.
Mr. Wiechmann insisted on informing us what great guys Mssrs. Ramos and Cicinelli are. From his vantage point on board the S.S. Douchebag, Ramos and Cicinelli look like some sort of stand up guys. But Art's judgment may not be that great, either.
Art, you got a call. Disney wants its Pirates of Carribean animatrons back.