Keller Ditches School, Gets Paid. Nobody Notices.
As a salaried teacher, Pam Keller is required to turn in a form to her boss whenever she is absent from work at the Fullerton School District. But unlike every other teacher, Pam has no boss and doesn't answer to anybody, even the Superintendent.
Since we know that Pam was out for a dozen-or-so days over the last few years attending various civic events relating to her councilperson duties, we decided to ask the school district to produce those absence forms that Pam turned in.
The response from Assistant Superintendent Mark Douglas was nothing but a big pile of mush. He claims that the district looked for the forms, although he never acknowledges that he couldn't find them. But he didn't send them to us, so it's reasonable to assume that Pam never turned them in.
Notice how Douglas tries to pass the buck along to the Fullerton Collaborative, as if a private organization is responsible for enforcing the school district's rules on it's own teachers. He never bothers to explain how Pam's 60% employment is relevant or why Pam's relationship with the Collaborative would give her a special exemption from the rules.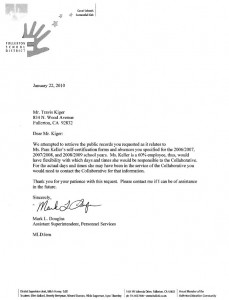 So now we know that Pam did not use her sick/personal days while she was out. She got paid even though she wasn't at work and her sick time continues to accrue indefinitely. Teachers have been known to build up an entire year of sick time before they quit, leaving taxpayers on the hook for salary, pension and benefits for days never worked.
Some day, long after the Collaborative's relationship with the school district is gone, Pam Keller will retire as a teacher. She will cash out all of those unused sick days at the expense of the taxpayer. We end up paying twice for all of her silly junkets, and the celebration of unaccountability continues.