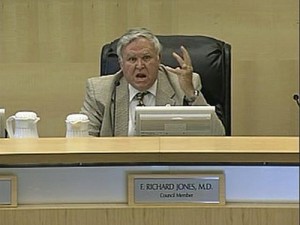 Well, not the law, exactly. More like City Council Administrative Policy #37, approved last February. Check it out: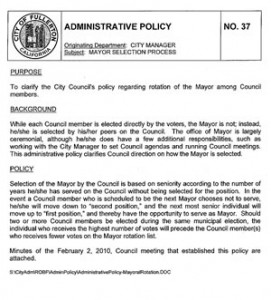 Administrative Policy #37
Here's the deal: the guy with most seniority since last being Mayor shall be appointed, plain and simple. And that means our Crazy Ol' Doc Heehaw is line to shoulder the burden of the mayoralty, like it or not. Well, he can shirk his duty again, like he did before, and go to the second spot.
That means the next in line to be Mayor is Sharon Quirk-Silva, with Dr. Phogbound as Mayor Pro Tem; and if he declines the second spot, too, that would fall to the highest vote getter in the last election. And that's our old Friend, Bruce Whitaker.
Now it could very well be that Sharon Quirk-Silva would defer her place until next year to run for re-election in 2012 with the title "Mayor of Fullerton," in which case our next mayor would be Whitaker.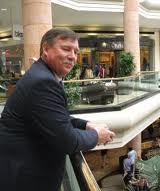 Of course Administrative Policy #37 isn't worth the TP it was written on or the Sharpie it was written with – despite the fact that it's the wet-dream of all Fullerton liberals, and ironically could produce the first truly conservative mayor since…well, since anybody could possibly remember.
How will it play out? Who knows? One thing is certain. This is Fullerton and it's bound to be a confused mess. But the entertainment value should be high.