Greenhut: Unions use malleable Sidhu to flex power
Steven Greenhut just put out an impressive piece on the why the public employee unions are throwing everything they can behind Harry Sidhu.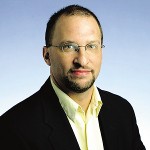 While explaining Sidhu's appeal to the union bosses, Greenhut writes:
Sidhu has no obvious principles that I can detect. He has agreed to drop OC's lawsuit against the 2001 retroactive pension hike for deputy sheriffs, which has earned him the unending loyalty of the Association of Orange County Deputy Sheriffs. He supports the high-speed rail boondoggle. He would not support the Prop. 90 eminent-domain reform. He talks like a conservative at times, but that's typical in OC — talk like a conservative, then vote like a liberal on the really important stuff.
He closes with this excellent summation of consequences from an (unlikely)  Sidhu victory:
If Sidhu wins in Orange County, then the unions will have won an enormous victory in arguably the most union-unfriendly area in the state. They will have made their point loud and clear: If you stand up to us, we will defeat you and will elect our own hand-picked candidate. Forget about pension reform and other union reform issues if they hold sway.
You can read the rest of "Unions use malleable Sidhu to flex power" on Greenhut's CalWatchdog website.