Out here on Screech Owl Road, east of Twentynine Palms you can see things pretty clearly. Sometimes the heat causes shimmer mirages; sometimes the wind kicks up some devilish sand storms – the kind that can strip the chrome off your Hummer. But most of the time you get used to seeing a long way. Even as far away as my former home, Fullerton.
The City Council race of 2010 is already over. You will re-elect the brain dead sea cucumber known as Don Bankhead – pension spiker, staff stooge, abysmal decision maker. And you will also elect Pat McKinley – poster boy for pension abuse, supporter of the hideous Ackerwoman, repuglican de-jour, and yet another retired cop. And it won't even be close.
Bankhead, Dick Jones, McKinley; please contemplate that triumverate of septuagenarian, lint-headed, RINO back washers and tell me why you aren't in deep shit. Can anyone say gerontocracy?
In the two-year seat Bruce Whitaker has a chance, but let's face it: he's up against a bankrupt and a carpetbagging food poisoner. Really, I don't see how he can pull it off.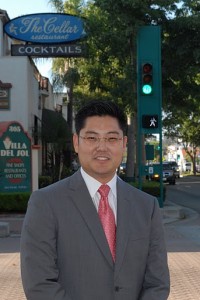 Fullerton, the Education Community, has a special knack for electing the weak, the feeble-minded, the incomprehensible. Jeez, do I have to draw you a diagram? Molly McClanahan, Buck Catlin, Julie Sa, Peter Godfrey, HeeHaw Jones, Mike Clesceri, Leland Wilson, Pam Keller. This rougues gallery of incompetence even starts to make Jan Flory look good. Well, no, cancel that.
Yes, I believe you are doomed.