Fabulous Festivities Fall Flat On Face
The other day one of the Friends got an e-mail from our favorite punching carpetbag – Hide and Seek Sidhu – announcing the "grand kick-off" opening of his Scampaign HQ for the 4th Supervisorial District election – a district in which he has already cooked up two separate addresses.
The e-mail  announced that the site would be Ground Zero for the hordes of Sidhu's faithful volunteers who would be fanning out across the district to spread the Good News about ol' Hide and Seek. Here's the typical scampaign bloviation:
The headquarters, located at 1105 S. Euclid St., Suite H, in Fullerton, will serve as the staging ground for hundreds of Sidhu volunteers as the campaign initiates its grassroots effort over the coming weeks.
"The Sidhu volunteer effort will be broad and effective," said Sidhu spokesman Tim Clark. "Under the watchful eye of veteran consultant Scott Taylor, Harry Sidhu's campaign is on track to exceed our goal of recruiting and fielding over three hundred grassroots volunteers."
Of course we couldn't resist the opportunity to do a little photo reconnaissance just to see what all the hubbub was about. So we sent a couple of Friends over to check it out. Here's what they saw: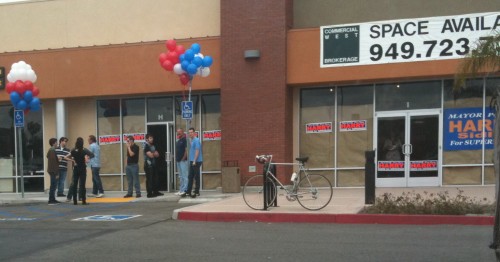 Good grief. No swarm of ecstatic volunteers. Just Billy Turner a few of his friends standing around. We even thought we caught a few glimpses of Hide and Seek himself who perhaps had surfaced for air, at least temporarily.
Another Friend drove by later in the day and said the place looked closed, although the bike was still there.
By the way, somebody better explain to Sidhu that "volunteers" are not people you put on your payroll. Volunteers support you because they believe what you stand for, and believe that you reside in the district where you are running for office. And "recruiting" volunteers doesn't mean putting college kids and the unemployed on your payroll.