Barry Speaks: Redevelopment Loans and the Lack of Public Input
This just came in from council candidate Barry Levinson: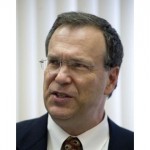 Last Tuesday night was the vote on the issuance of housing bonds by the RDA in the amount not to exceed $29 million. The Mayor spoke and indicated that there will be no public comments on this issue.
The city attorney right before the vote was to begin, rightly reminded Mayor Bankhead that since the people cannot vote on whether or not to approve the bond issue, we should at least be allowed to voice our non-binding opinions.
Here are some of my comments I presented to the council:
Mayor and council shame on all of you for almost forfeiting our right as Fullertonians to speak out on this housing bond issuance.
We need better oversight over the RDA projects.  The city council and the rest of the RDA should not be the ones policing themselves.
The RDA is the only taxing authority that requires no voter approval. We as taxpayers, S/B given more information and more time to review these bond measures before it comes to a vote by council.
Since there will be 2 possibly 3 new council members as of November 2,  I suggested that this item be postponed to after the next election.
The council's answers largely were defensive.  No one touched on the third rail issue of no voter participation!  Mayor Bankhead remained conspicuously quiet throughout the council's responses to our objections.
And there you go; another council meeting where our rights as citizens were eroded and $29 million was obligated by the city council without a single vote cast by the people!