What Is It About Molly McClanahan And Football Stadiums?
Dick Ackerman, Fullerton Redevelopment boondoggle history, college football, and Molly McClanahan.
It's not often that so many local topics intersect, so when they do this intersection should be scrutinized and at the very least enjoyed for it's entertainment value.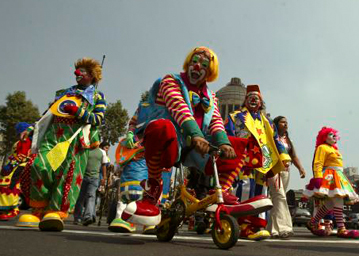 And so Loyal Friends, climb into the FFFF way back machine and travel with us to the not so distant year of 1990.
Supposed conservative city councilman Dick Ackerman had just help orchestrate a fiscal finagle in which the Fullerton Redevelopment Agency would finance a football stadium for Cal State University at Fullerton.  Councilwoman Molly McClanahan voted for this blatent abuse of redevelopment although titan football folded and the bogus fundraising program was exposed she was heard to take credit for "asking all the tough questions!". 
Fast forward now to 2009: a football stadium sits at CSUF with no football team in it. A stadium financed by the tax payers of Fullerton, all of whom are residents of the North Orange County Community College District of which Molly McClanahan is now a Trustee. The NOCCCD is caught red handed trying to illegally slip a new football stadium into it's bond expansion plan at FJC! 
Now, that's ironic ! How many football stadiums will Molly McClannahan oversee before she wraps up her political carreer? And why can't FJC's football team use the CSUF football stadium for its 5 or 6 annual home games? Maybe Molly can answer that since she approved it in the first place. Let's ask her. Molly?