The Sunday Drive: A Heap O' Trouble In Vegas and Links To Milblogs
Okay, we're giving you a lot of good links in this post. Click on 'em all.
Right now the Divine Miss K is listening to French Radio on Pandora. She's also wondering if it in any way is connected to this weird dream about people smoking cigars. Hack hack….phooooo
Yes, it's confirmed. Courtesy of the most testosterone driven milbloggers at Blackfive, the Divine Miss K will be in Las Vegas at Blog World Expo. She'll also be visiting her time-to-time haunt over at the Blogcritics. It'll be a chance to pick up some work, meet a bunch of fellow bloggers, and see which tech companies are folding in on one another.
Learn more about it at the Divine Miss K's Milblog, The Kitchen Dispatch, by clicking the icon on the sidebar. Btw… The Kitchen Dispatch was named "the best milspouse blog going" by no less than BabaTim of the excellent Afghanistan Blog Free Range International. The two blogs are the yin and yang of war.
Side rant: For a long time now, that other paper has run death stats of the wars in their paper. Though they are stats we in the milcommunity should and do keep in mind, they have, like many,  boiled it down to this one sad, but true aspect. War is horrible. The many issues and people involved are deep and complex. But given the source, it's par for their course. Though J. Dobrer's August column was well intentioned, it's also served as a reminder of the same elitism, snobbery and odd-distancing that has long entrenched this burg. He was surprised to be moved when he saw the ghost of the Twin Towers, though how anyone would not be is beyond my comprehension.  I traveled there after a friend lost her husband in the horror. Let's just say… I will never forget those crowds, the feeling of being pushed, the lights, the sounds, the smell and the finality of it all. And when I was there this summer,  the effect was no less.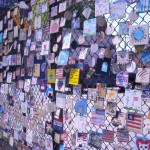 He was however, correct about Al Qaeda.
The suggestion: The Divine Miss K highly recommends some of the side links on  The Kitchen Dispatch to various milblogs. Each one will take the reader out of their comfort zone.  But then that's the point isn't it?  But this opinionating is for naught, since the hoi polloi claims to "never read the blog."

Back to blogging: Hope to see you there.