The RDRC and Jay Eastman Take A Curtain Call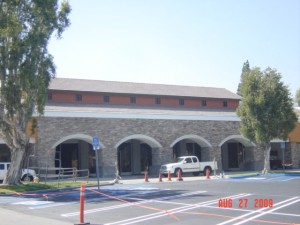 Don't say we didn't warn you. Because we did. In previous posts  here and here, we tracked the progress (if you really want to use that word) of the strip center at Euclid and Rosecrans. Well, the scaffolding has come down and what's revealed ain't purty.
Our theme here was wasted space and building materials and of course, The City's dubious commitment to the idea of sustainability. And our purpose was not to dwell upon the poor aesthetic choices made by the owner of this center. Instead we chose to focus on the City's role in this aesthetic disaster. For some reason the Development Services Department (they serve developers) decided that this non-subsidized, private remodel needed to go to the hapless Redevelopment Design Review Committee – even though it is miles from a Redevelopment area.
Planner Jay Eastman made it clear that the RDRC intended to impress its preferences unto this site – no doubt assisted by Mr. Eastman himself. Let's let Barbara Giasone help us with our narrative from a May1, 2008 story:
"The proposed remodel was reviewed by the Redevelopment Design Review Committee last week, but the panel felt the design was commonplace and didn't reflect the character of the neighborhood, Acting Chief Planner Jay Eastman said. The architect was asked to look at the surrounding neighborhood with terms like "country," "rural" and "equestrian," Eastman added."
Country. Rural. Equestrian. Got it?
The ensuing visual train wreck of disjointed parts, shed and gable roofs, the weird confusion of masonry veneer and stucco, and all the wasted attic space with its dinky windows provide a suitable denouement, fifteen months later,  for this cautionary tale. If the property owner had been left to his own devices it is hard to conceive anything worse being done – and it could have been done a lot less expensively.
We wonder just what sort of idiots our staff and their RDRC think inhabit rural equestrian areas.