The All-Seeing Eyes of Fullerton
Over the past several years you may have noticed the increasingly prolific nature of government-sponsored surveillance cameras throughout the public areas in Fullerton. One Fullerton resident counted over 122 police and traffic cameras spread throughout the city.
These unblinking eyes are given the authority to record us as we lawfully participate in the everyday life of Fullerton citizens. Some of them issue $400 citations when we break the law. Others merely record our presence and store it on disk at the police station, to be reviewed later if we are accused of a crime. Sometimes the cameras are viewed in real time by Fullerton's finest — other times they are viewed by private citizens working for a smooth-talking surveillance system vendor.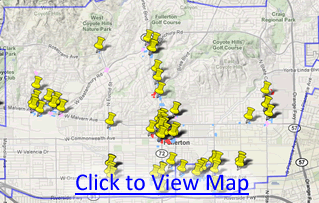 Most of us do appreciate the hard work that Fullerton Police do to find and detain those who cause us harm. However, we must remember that all government power is ultimately derived from the threat of force — necessitating our extreme caution in creation of new powers and rules. As free citizens, it is our responsibility to maintain strong oversight over those who we allow to govern us. We must keep a wary eye on technologies that enable the quiet expansion of power over us, and we should thoughtfully devise rules and policies regarding their use to protect us from individual or systemic abuses of such power.
Some may sneer at our natural tendency to question the continued spawning of such devices. After all – what do we have to hide? Don't we trust our law enforcement agencies? We all know individual Fullerton officers who we personally trust. Shouldn't we trust all of them?
Isn't this just paranoia?
NO. The recent case of Orange County Sheriffs Department's abusive surveillance of the OC Board of Supervisors is strong justification for our concern. Sheriff Sandra Hutchens stands accused of allowing her deputies to use surveillance cameras to zoom in on the notes, emails and text messages of political opponents and then unlawfully denying public records requests to release the tapes to the public.
Sheriff Hutchens has given us a perfect example of what can happen when we are too cavalier about allowing new technology to expand the presence of law enforcement into our lives. The Board has since voted to remove the Sheriffs' contract to provide security over the boardroom, but as citizens, it's not always that easy to protect ourselves once we have allowed an agency to go too far.
I urge the City of Fullerton and the Fullerton Police Department to carefully consider the ramifications of the continued proliferation of surveillance cameras throughout Fullerton. As free and law-abiding people, we do not need or deserve to be monitored whenever we leave our homes.