Proof That Dick Ackerman is a Liar; Or Has a Real, Real Bad Memory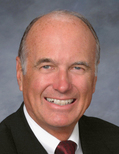 The Fullerton Harpoon did a post yesterday about an article that the Register's Frank Mickadeit did about the Ackerman/Norby feud. Frank didn't bother to tell his readers that he pals around with the Ackermans socially – just like he did with Mike Carona. But we know. Mickadeit proceeded to pass along a truck load of horseshit peddled by Dick Ackerman, including 25 year-old recollections about Norby as a sexual harasser that he suddenly just remembers. Of course his corroborating witness is dead as a doornail.
Well, yesterday afternoon the Harpoon re-read the Mickadeit piece and a light bulb snapped on. As the helpful Frank tells it:
Ackerman says the two had a friendly beer at Elmer's after Norby won. "I said, 'Hey, things are going to be good. We've got five conservatives.' But the votes kept coming out 4-1," with Norby dissenting.
In a post update the Harpoon unloads:
PROOF THAT ACKERMAN IS A LIAR – OR HAS A REAL, REAL BAD MEMORY. MOLLY McCLANAHAN WAS ON THE CITY COUNCIL THEN. THERE WERE NEVER 5 CONSERVATIVES. C'MON DICK. YOU REMEMBER MOLLY DON'T YOU? YOU KEPT HER FROM BEING MAYOR FOR 6 YEARS. YOU OUGHT TO. MAYBE LINDA LEQUIRE CAN HELP. HER MEMORY IS AT LEAST AS GOOD AS YOURS.
So what are we left with? A man whose honesty or memory is rotten. His whole interview with Mickadeit is discredited, and  is  just typical of everything else in the Linda Ackerman 72nd Assembly campaign: her fake residency, her phony self-description as a business woman, and her contention that people in the 72nd asked her to run. It's all a tissue of falsehoods – as bogus as her staged photos.