MAGICAL FOOTBALL STADIUM EMERGES FROM NOWHERE!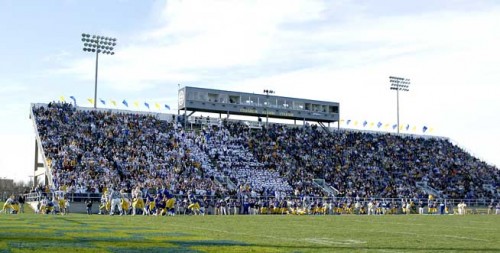 The trustees over at the North Orange County Community College District have seemingly done the impossible, conjuring up a new football stadium at the FJC campus out of thin air. Apparently the neighbors aren't too crazy about this sleight-of-hand since it means noise, lights, traffic, etc. They decided to raise their own ruckus, and in a democracy that's a damn fine thing.
What happened was that the locals discovered the District had been guilty of "mission creep" or bureaucratic metastasis, or whatever you want to call it. But rather than our going on, let's let neighbor Ken Bane speak for himself (courtesy of another FFFF thread):
"the EIR only contemplated a "renovation" of the track field. but when no one was looking, they added lighing, a PA system, and seating 2000+. When we caught their hand in the cookie jar they agreed to be a "good neighbor" and do the required supplemental CEQA review, like someone following the law makes them worthy, when in fact they wouldn't have unless we busted them. And frankly, we're skeptical they'll do it right from here anyway."
We recall a Ken Bane who used to work for the Fullerton Planning Department many years ago and wonder if this is the same fellow. If it is, we have confidence that his narration of the environmental deficiencies of the project is pretty accurate.
Now it may come as a shock to some of you Loyal Friends, but it is the government itself that is often the biggest scofflaw when it comes to abiding by CEQA (California Environmental Quality Act). Even when they don't get a categorical exemption public agencies often find ways of dodging the intent of CEQA that could land you or me in the slammer.
As our own Fullerton Harpoon pointed out in response to Mr. Bane, this enhanced plan will require an amendment to an approved EIR including new facts not previously in evidence. Traffic, Noise and Aesthetic EIR categories will have to be addressed, and the new document should also include alternatives to the project – in this case one alternative could be to rent somebody else's facility as a congenial part of a "no build" alternative; maybe it could be the Fullerton High School stadium a mere quarter of a mile away.
CEQA also requires that if there are unmitigated impacts (such as in this case lighting and noise will undoubdtedly be) a statement of overidding considerations be made identifying some objective public need for building the project. In this case it's pretty hard to see how anybody could justify the necessity of a game-day stadium, especially for the few hundred spectators that show up for a typical Hornet game.
This may be one of the rare cases where a citizen/neighborhood group can take on a government agency – and win. We will try to keep our devoted readers up to date on this issue.