Ground Zero of Fullerton Redevelopment Failure
For dyed-in-the-wool government apologists like Dick Jones, Jan Flory, Dick Ackerman, Sharon Kennedy, Don Bankhead, et al., Redevelopment blunders are conveniently overlooked, when possible; when not possible, some lame defense is mounted, such as: mistakes were made (passive voice obligatory) but we learned and moved on; hindsight is 20/20 (Molly McClanahan's motto vivendi); the problem was not too much Redevelopment, but too little!
But when any reasonable person contemplates the collection of Redevelopment disasters along Harbor Blvd. between Valencia Drive and the old Union Pacific overpass, the only conclusion he or she could draw is that the Fullerton Redevelopment Agency should have been shuttered years ago, and the perpetrators of the manifest failures crowded onto a small raft and set adrift with the Japanese Current.
We have already described in nauseating detail the "Paseo Park" debacle; and the Allen Hotel fiasco; we haven't yet had time to talk about the "El Sombrero" pocket park give away (we will).
But instead of wasting too many perfectly good words, we will share with you Friends a Redevelopment pictorial essay with just a little piquant commentary.
First there's the strip center known as Gregg's Plaza. Brick veneer, of course. Even the veneer is so disgusted it's trying to jump off the building.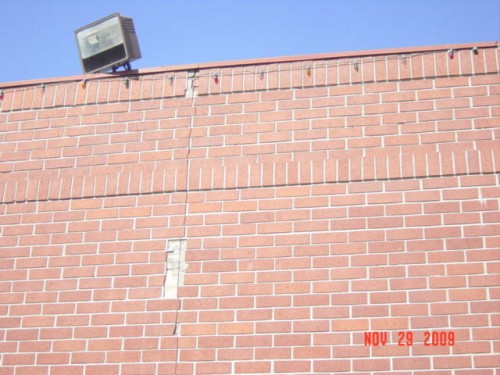 Across the street is the Allen Furniture Store. When they got their rehab loan somebody forgot to tell them that a storefront is a storefront – not a jailhouse. So why are there bars on the dinky little windows? And pink stucco?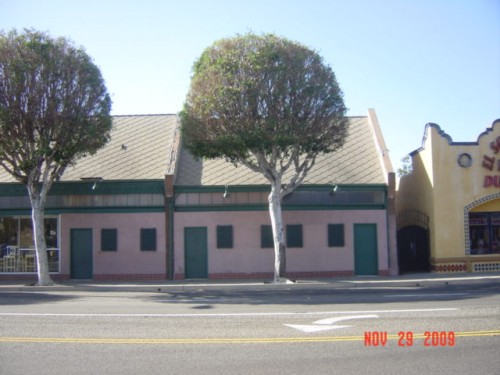 Jumping back across the street we re-introduce ourselves to the egregious Allen Hotel, perhaps the biggest Redevelopment boondoggle of all, a mess that we have already admirably documented, here. As we noted then, the add-on was unspeakably awful (and expensive). The front is, well, pretty awful, too.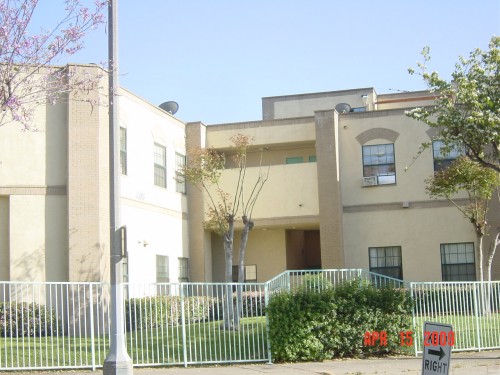 What was sold, in part, as an "historic preservation" project ended up violating just about every standard in the book. The original windows were ripped out and replaced with vinyl sashes; the transoms were destroyed and replaced with sheets of plastic and surface applied strips supposed to simulate leaded glass.
Across Harbor we discover the "El Sombrero Plaza," another sock in the face to any Fullerton windshield tourist. Forget the stupidity of the sideways orientation and the Mission Revival On Acid stylings (which attain a kind of crazy Mariachi deliciousness); this development included the give away of part the adjacent public green space so they have parking for a restaurant. The owner never did develop a restaurant, of course (more on that story later).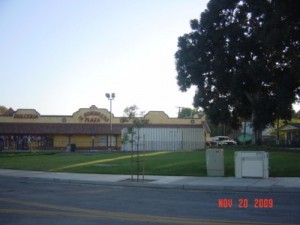 And finally we come to exhausted collapse at another one of the Fullerton Redevelopment Agency's low points. And by low point we mean the complete, unmitigated disaster of the Union Pacific Park, ably chronicled here; and in a whole series here, here, and here.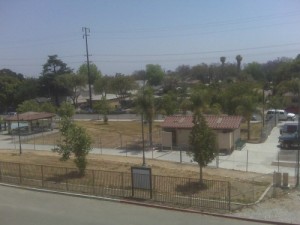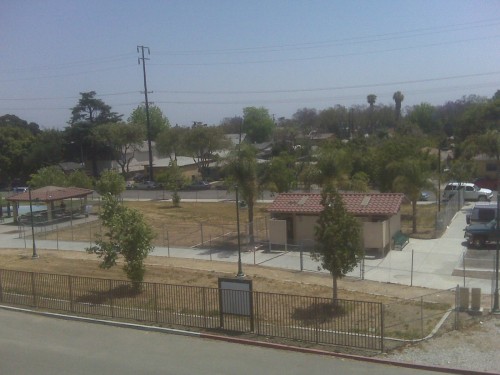 The poisoned park: dead as a doornail. An aesthetic, pratical, and policy disaster. And no one has ever stood up to take responsibility for the total waste of millions of dollars.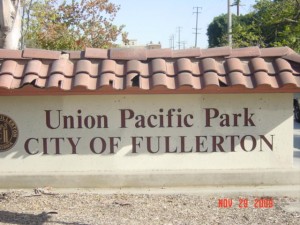 Well, there you have it, Friends. Redevelopment in action; Redevelopment creating blight, not eradicating it. No accountability. None. Zero. Zilch. And some people wonder why FFFF has sued to keep Redevelopment from expanding.