Fullerton Junior College Subjected to More Horrors!
Just in case you thought the North Orange County Community College District couldn't possibly inflict any more architectural damage to what was once a quite lovely campus at FJC – you'd better think again.
The latest addition to an already overbuilt campus is this multi-storied monstrosity that bears all the hall-marks of the new bond-built FJC buildings: hollow and stuccoed walls, fake arches, and an overbearing presence that sort of sucks the life right out of you. No need to guess what's coming:McSpanish Dinosaur!
Pretty soon all those wasteful hollow metal stud walls will be wrapped in lathing and then plastered to present the appearance of masonry; Styrofoam cornices will be tacked on to gratify the sort of taste that demands a hat on a mannequin; phony wrought iron accoutrements will be lagged into the plaster and then the administration can pat itself on the back for another job well-done.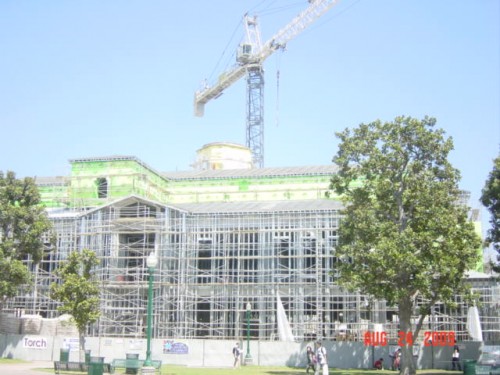 By the way, if you look carefully you'll notice some sort of cupola emerging on the roof. Is another foolish clock tower avec dome on the way? We'll be sure to keep you up to date on the latest architectural embarrassment at FJC.