Fox Block Rises from the Ashes
City staff is back to hustle the infamous Fox Block project after it was killed by city council earlier this year. The project was shot down by a suddenly-fiscally-conservative council majority because it included a $6 million dollar giveaway to the McDonalds corporation that would be used to build a brand new fast food restaurant and hand it over to the corporation in exchange for a lesser property that the Redevelopment Agency "needs" to complete the project.
An email from the Fullerton Historical Theater Foundation urges supporters to show up at the study session on Tuesday night to voice opinions on the project. The email also included a first glimpse at the redesigned project: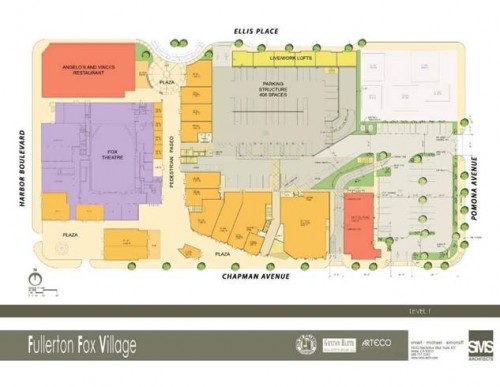 The rest of the drawings do not seem to be available yet, probably because staff prefers the public to be disarmed of the facts when the meeting begins. That way it's easier to control the presentation: wax the upsides, minimize the downsides and keep those pesky residents from vocally questioning the dubious aspects of this project.
Judging from the angry crowd that attended the last study session on the Fox Block, the discussion will center around:
The height of the buildings and parking structure and their impact on the surrounding neighborhood.
The McDonalds move, which still appears in the new plans.
The use of empty promises and taxpayer subsidies to control the type of non-viable businesses that residents and staff would prefer to see in the complex.
Fake McSpanish architecture
The inconsequential relationship of this project to the actual restoration of the Fox Theatre.
So come on down to the Police Department Mural Room on Tuesday, October 20, 2009 at 5:00 p.m. It should be interesting.