Dave Lopez Follows Duvall Slime Trail to Virtuous Ackerwoman Campaign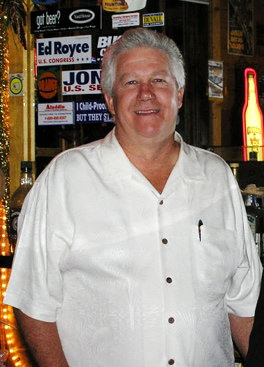 Well, now we know why Dave Lopez of KCAL news was at the the Summit house restaurant on Tuesday night. He was there to pin down Ackerwoman campaign fundraiser/organizer Desiree Mouzoon about an alleged relationship with now resigned Assemblyman Mike Duvall for whom she worked in several capacities. Here's the clip from CBS/KCAL. Enjoy the sight of Lopez trying to chase down Mouzoon and then face off with a Corona swiggin' Ackerman.
The humorous aspects of the story are manifold. First is the irony. Dick Ackerman is widely regarded as the creator of the slime bucket Duvall in the first place – yes the selfsame Ackerman, Inc. that is now presenting its public face of virtue even though there is hardly a single honest thing about Ackerwoman's campaign. And now we get to see Ackerman intercepting Lopez to prevent him from speaking to the candidate. Apparently Ackerman does all the talking for Ackerwoman. It's a team, see, and Dick is team captain.
Naturally the local blogs are enjoying this latest twist: Moxley at the OC Weekly has this. The always ebullient fringer Art Pedroza shared this with his blog followers.
As an aside, Pedroza notes that on her Facebook page Mouzoon indicates a "relationship" with Adam Probolksky – Repug slime blob who was once heard to opine that there was no such thing as a conflict of interest. What a crew!