Another Ackerman For Fullerton?
Martin Wisckol over at the Register wrote about the possibility of Mrs. Linda Ackerman, wife of  former State Senator, Assemblyman, Fullerton Councilman, and gerrymanderer par excellence , running in a special election to replace disgraced Mike "the Big Dripper" Duvall in Sacto. You can read about it right here .
Several thoughts spring immediately to mind. First, Wisckol reached Mrs. Ackerman while she and Dick were vacationing in France at the home of the Marquis de Sade. We'll just let that one go except to add that that's a pretty apt place to announce you're might just replace Mike "Spanky" Duvall.
Second, Mrs. Ackerman doesn't live in the district. She and Dick decamped a while back when his field of operations permitted him to move south. We don't care for carpetbaggers even if they used to live here and we care even less for the spouses of politicos who trade on their mates political connections. Mrs. Ackerman's political star has ascended in a not-so-curious trajectory, as her husband's career wound down. She's on the MWD board and that gives one cause to pause lately.
Third is the great irony of immediately placing yourself in the discussion about replacing a degenerate that was handpicked for office in the first place by your hubby and his "in crowd" GOP hacklings. Look how that one turned out!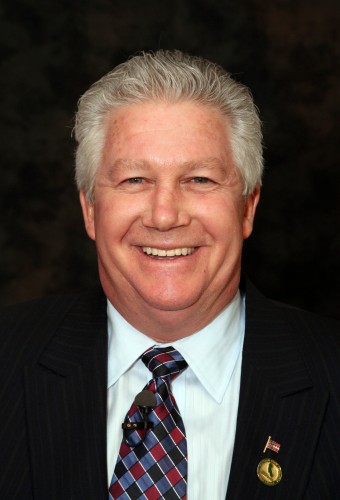 Fourth, we read in Wisckol that Mrs. Ackerman claims she is conservative, but does not share Chris Norby's anti-Redevelopment stance. In other words, she likes government intruding into local development and business, she likes affordable housing set-asides, she digs corporate subsidies, and she admires all the other big-government baggage that Redevelopment brings with it; hardly conservative at all, really. Well, hooray! Now we know what the Ackermans mean when they use the term conservative.
Finally, we note the possibility of a Norby-Ackerman rematch of the 1995 assembly election between Chris and Mrs. Ackerman's husband, a spectacle in which Dick proved just how low he could go. Ackerman loathes Norby with a undisguised passion that has long since crossed over the threshold of obsession. Although the match would be highly entertaining, fulfilling a brain-dead family vendetta is a poor reason to do much of anything, let alone run for public office. Mrs. Ackerman should stay in Irvine.