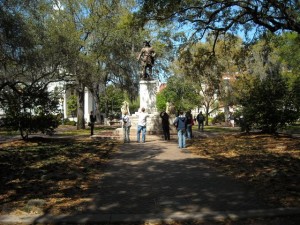 Click to bigify images
The other day, while driving along Chapman, I was struck by the scrawny Bottle brush trees pruned to the point of embarrassment and disgrace.  I've seen some of the worst examples of improper pruning of both trees and shrubs in Fullerton –both along boulevards and at private homes. Who are these morons with saws?  I thought I'd share some of what I look forward to seeing when I go back.
Savannah is a cosmopolitan city with a mix of old and new. It's an old city, one where history matters and has played a role in the shaping of it. One of the things that grabs the first time visitor are the trees. There are giant oaks draped with Spanish moss. The delicate but strong strands of moss takes over every thing from trees to camellias and azaleas. But the greenery seems to hold the entire city together giving it a level of comfort and sophistication.
There is a stately grandeur about these trees. Nowhere is this seen better than the oak alley planted along the road to Wormsloe Plantation. Wormsloe was built in 1740 by one of the original settlers, Noble Jones. What's left of Savannah's first fort are the "Tabby" ruins, a mixture of lime, sand, and oyster shell halves thrown in for good measure. While the ruins are interesting, it's the alley that everyone remembers and associates with plantation landscapes.
One of my favorite finds was the discovery of two secret gardens. Secret meaning they're private and I peeked through a fence. The two gardens shown here belong to townhouses along busy streets. They provide the owners respite in an area where funeral hearses are resurrected as tour buses, and the usual mix of tourists and business crowd the area.
Anyway, the grace of the trees and the way the moss takes over everything is part of what makes the city so beautiful. Further out, along the river, there is much scenery to take in as well. I find the natural landscape evocative of where I grew up. The bulrushes are beautiful as well. Here's the dock over by a house we looked at to buy. This is the stuff of dreams as well.