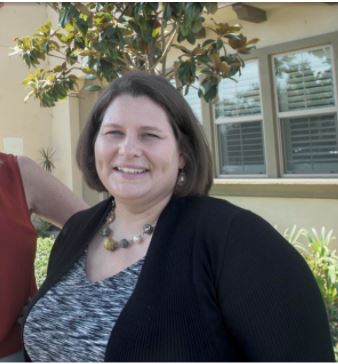 Friends, you may be excused for not knowing who Elizabeth Hansberg is. Very few people know, or care who is on their Planning Commission. But it matters.
Elizabeth Hansberg is our current Planning Commission Chairperson, appointed by the egregious Ahmad Zahra. "So what?" I can hear you saying. Well, contemplate this: she says she is an urban planner, and boy, does she have an urban plan for Fullerton: 13,000 new housing units is the plan, a concept that would increase our population by as much as 33%, upward of 200,000.
"What's this?" you ask. Here's the deal. Ms. Hansberg is a "housing advocate" which means jamming as many apartment blocks as is possible into Fullerton. The non-profit she started – People for Housing, now affiliated with something called YIMBY (Yes In My Backyard) lobbies government agencies to build housing units. And lots of them. The website brags about lobbying the Fullerton City Council with images of yet another Planning Commissioner in tow – some political opportunist weenie called Jose Trinidad Castaneda,
Their mission is to pursue the current philosophy current in Sacramento to build hundreds of thousands of new units no matter the impact on the current property owners, the infrastructure or the environment. Slow Growth and sustainability advocates are her nemesis.
Naturally this has raised accusation that her movement is nothing but a pawn of the big development interests who are desperate to sink their shafts into the mine of cross-zoning in-fill housing monstrosities. Her cohorts deny this charge, but it still rings true. Why? Because she actually solicits opportunities from developers to engage in political advocacy on their behalf. It's right there on the website. It gives every indication of being little more than a self-congratulatory shake-down effort.
So who does fund People for Housing, and what are the implications of having this person on our Planning Commission? 
Stay tuned.