The Rape of the Fullerton Arboretum
What's going on over at the Fullerton Arboretum? Well, it's pretty clear: a bunch of State educrats and planners have their eyes on expanding the CSUF campus into the Arboretum grounds. Why? Because they can.
At April 10, 2019 open houses, these worthies finally unveiled their "concepts," "placeholders" and other thin end of the wedge lingo that means construction of some sort is coming. The on-line story in The Fullerton Observer by Jesse Latour gives an excellent summary of what happened – along with the recital of the poor planning effort the planners put in to holding their own meeting. The staff drones and their flunky "consultant" obviously didn't count on the horde that showed up to almost unanimously oppose any encroachment on the Arboretum grounds, and to point out, correctly, that the place had been overwhelmingly described as people's favorite place at the university.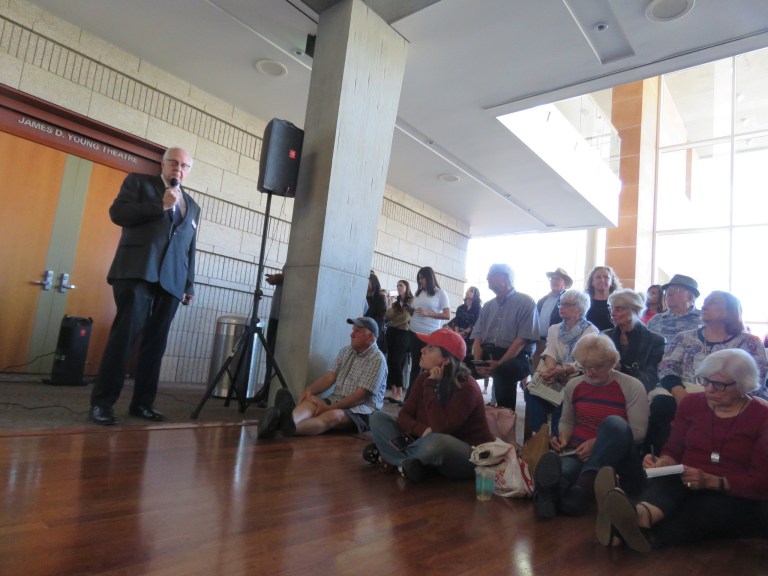 As might have been expected, lie and dissimulation, and outright refusal to answer straight questions were piled one on top of one another into a classic bureaucratic dung heap. But one thing emerged in pellucid light: the people that run the university want to build something, maybe anything, within the confines of the existing Arboretum. All three "conceptual" scenarios include new buildings on the grounds that are not wanted or needed by the people who run the Arboretum. And those of us who know how these incremental approvals work know that the die is already cast.
Unfortunately, the good folk who showed up for this phony pow-wow don't understand that as local citizens they have virtually no power to effect a stop to whatever the Cal State University system and its Chancellor in Long Beach authorize. This is particularly true since Fullerton's Redevelopment Successor Agency seems to be pulling out of its long-standing cooperative agreement with the university. Back in the late 70s, the City actually paid to help establish the Arboretum. Does anybody in City Hall care? There is certainly no revenue to be squeezed from it.