The Bullshit of "Anticipated Litigation"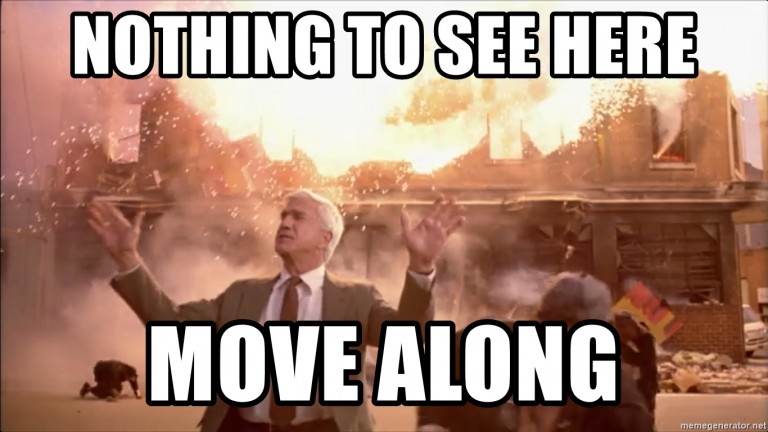 California's Brown Act specifically enumerates when public agencies can meet in secret (Closed Session, they call it) away from the prying eyes of the nuisancy public that pays for the whole show. One of these exempt categories is "litigation," in which secrecy is deemed to be okie-dokie. The problem is that government agencies, when given an inch will invariably take a mile.
But when you fail to specifically constrain the arm of government, they will invariably flex those muscles. And so it is that "litigation" has come to include anticipated litigation which, of course, could cover just about anything, anywhere, at any time. And that label seems to give the City of Fullerton reason to believe it can omit the names of anticipated litigants. The anticipated litigants must, necessarily remain in the dark about what the government is about to do to them, while the government, for its part, gets a jump on its adversary. Of course this isn't right, but what do rights have to do with the City of Fullerton government?
Let's first take a look at the City's Closed Session agenda for September 17: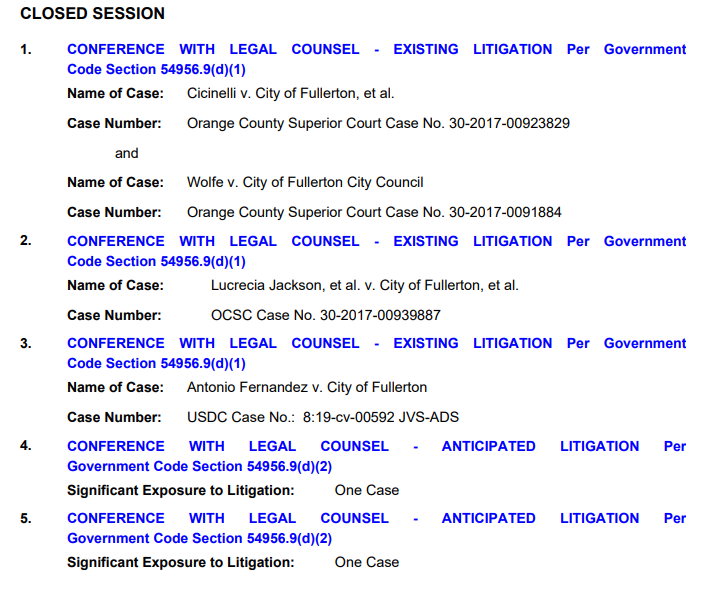 Notice the final two items have been draped in the magical shroud of "anticipated litigation." We may wonder what the Big Mystery is. Rumors are circulating that at least one of the the items in question is the City's desire to sue humble little us, Friends for Fullerton's Future, and that the council has voted to do so. Could that really be true? FFFF, of course, would be the last to know. But the City Attorney made no mention of such doings while "reporting out," from the Closed Session. If they're true, what are we to make of the rumors?
The City has already sent a couple of laughable nastigrams in our direction, both of which were duly ignored, so litigation is plausible, but only if the City initiates it. This means that it is the City instigating, not reacting to likely litigation, and begs the question of why this issue would not be a matter for public discourse. And it also suggests that it is the city manager and his bumbling lawyers who will have advocated this harassment to cover up their own corruption they didn't want exposed.
Well, I'm sure that covering up its clownish behavior is the last thing the esteemed council, upright city manager and brilliant city lawyers would ever do, so it seems pretty certain everything will be made clear. One way or another.