Good God. Talk about a winning team! The Almighty and lobbyist-councilperson Jennifer Fitzgerald, that is.
https://www.youtube.com/watch?v=xrkhsqw7bRQ&feature=youtu.be
See, Yaweh, the Lord of Hosts, has placed his followers in front row seats in Fullerton to see what He's up to. I always enjoy this phony-humble "I am God's instrument"  bullshit from grifters, bunkum peddlers and hokum spinners.
Sometimes they are preachers and sometimes they are politicians. But one thing that never changes: God's plan involves their pecuniary self-interest and advancement.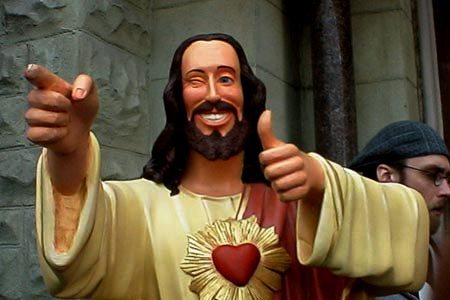 Amusing, yes. But I also find it rather offensive that Fitzgerald keeps invoking Jehovah to explain what's going on in Fullerton. There's a Divine Plan, donchajustknow, and it obviously involves Ms. Fitzgerald. Therefore, logically, it involves lying to the electorate about the real state of our municipal finances and betraying the trust of her constituents in favor of out-of-town developers and downtown hooch purveyors and "public safety" unions.
I don't know about you but I am appalled at the sight of our City Hall being used by this influence saleswoman as a backdrop as she expatiates upon the Lord's Plan for the rest of the flock, a flock that she seems to regard mostly as an object simply to be fleeced.
No, SparkyFitz, you are not the City. And you may be surprised what the Divinity has in store.