CSUF Republicans allege professor-on-student assault at Trump protest
Members of the Cal State Fullerton GOP club say that an anthropology professor physically attacked students yesterday during an on-campus clash with anti-Trump protestors. The Register and Breitbart have the stories.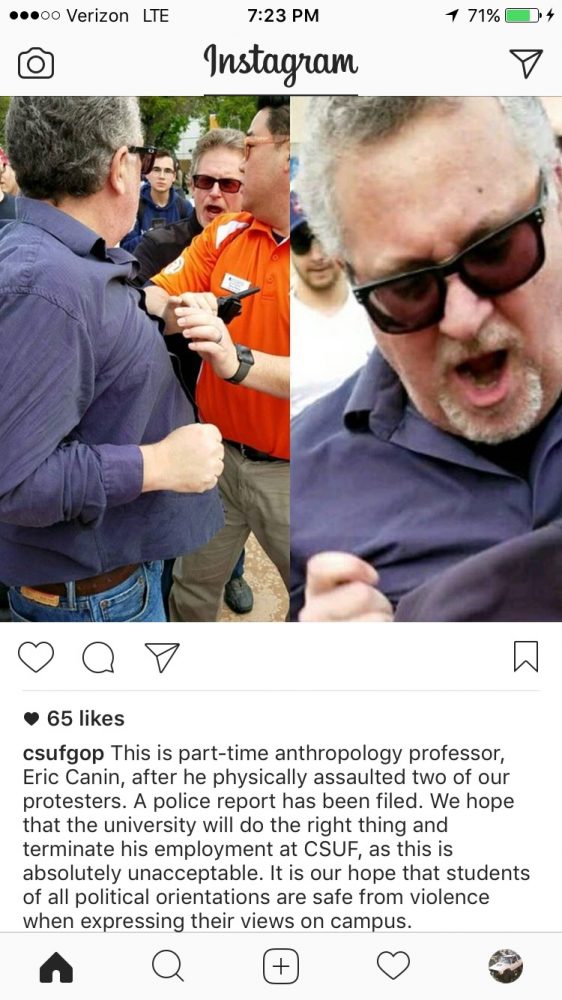 It's too early to tell if any of this is true. But that doesn't mean we can't tell you what will happen next.
CSUF administration will announce that they've called in an "independent investigator" who is really just an on-call attorney, hired to minimize the school's liability and facilitate the quiet payoffs of any lawsuits.
The employee will be placed on paid administrative leave until the media and the students become tired of silence and move on to something else. Some sort of internal investigation may occur, but the findings will be hidden from the public and any students who were harmed.
The CSUF police force, part of the same beaurocratic structure that is responsible for this madness, will ultimately find no reason to press criminal charges upon their coworker.
During this excercise, pretense of concern for student safety will be audibly reiterated, but realistically disgarded. The administrators will focus all of their energy balancing the nearly unlimited employment rights of potentially abusive faculty with their need to protect the reputation of the institution that allowed this assault to occur.
Nevertheless, we persevere. Stick around, friends. We'll keep a close eye on this one.