Behind the Badge: Dan and Bill's Excellent Oregon Adventure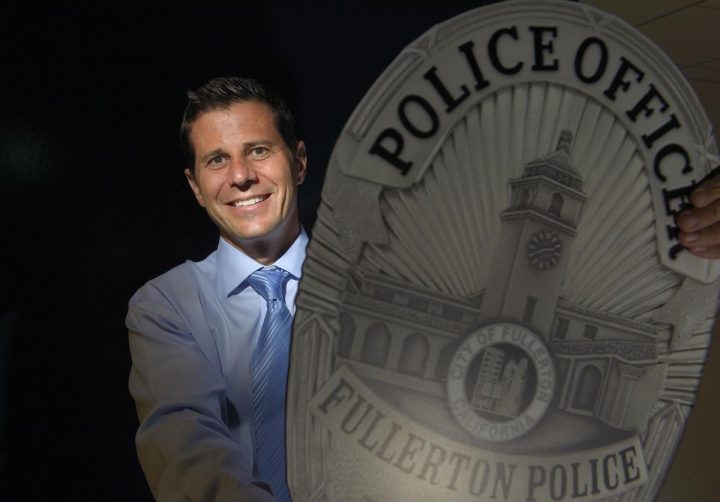 Last spring former Police Chief Dan "Galahad" Hughes and Bill Rams went up to Oregon to speak at a cop convention. The City paid for Hughes and Bill Rams' plane tickets. Who is Bill Rams?
Bill Rams is the proprietor of "Behind the Badge," a shallow, police feel-good PR outlet that sells its dubious information to public agencies so the taxpayers can pay for cop propaganda aimed right back at them. We have already noticed that this charming swindle was orchestrated in Fullerton behind the scenes by former City Manager Joe Felz – without any public input or council oversight.
Hughes went up to Portland to deliver of himself some sort of speech to the Oregon Association Chiefs of Police, titled "When Trust is Tested…Strategies for Restoring Public Confidence." That name alone should cause a torrent of laughter here in more southerly latitudes given the Culture of Corruption in the Fullerton Police Department in which Captain Danny Hughes was an integral part of the management team, and that included theft, fraud, sexual battery, perjury, more perjury, false arrest, assault, more assault, more theft, destruction of evidence, kidnapping and homicide. His solution as soon as he became Chief? Hold an open house and hire a footling PR purveyor named Bill Rams. But I digress…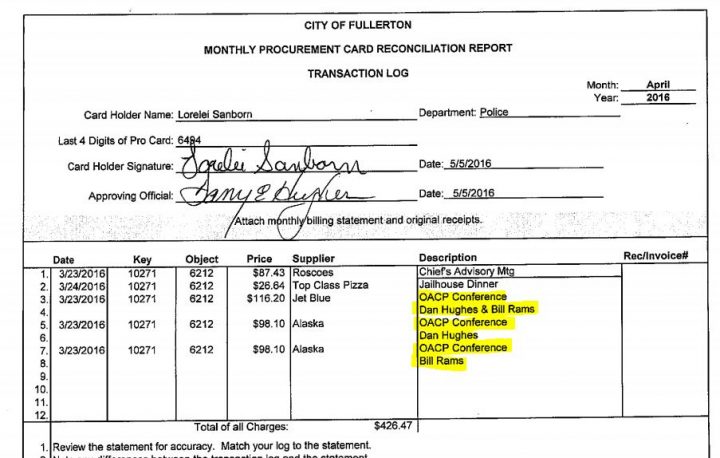 Why did the taxpayers foot the bill for Chief Danny's air fare to Oregon in the first place? And why on Earth did we have to pay to send Danny's little chronicler, Bill Rams, to a conference that had absolutely nothing to do with Hughes's job of running our police department?
Here is the full expense report.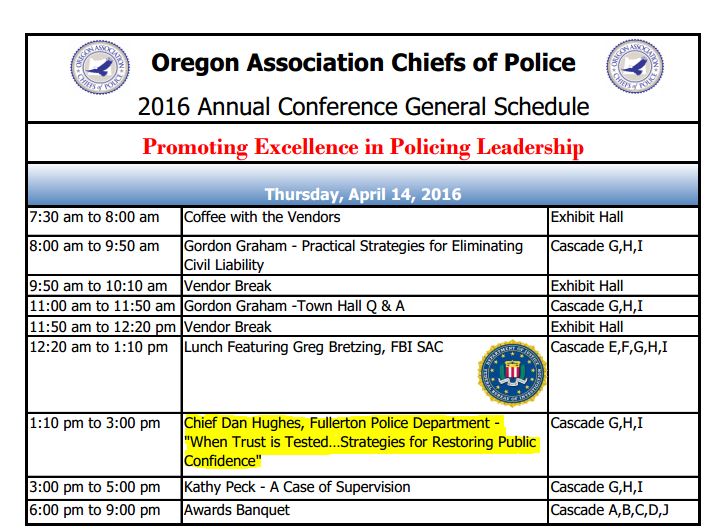 Should the city be flying employees around the country on personal speaking junkets? Of course not. Should the City be paying their own vendors to fly around the country so they can hand out business cards? Of course not.
Sinnce Danny got his freight paid by us we can assume he was on the clock the whole time. And I would be remiss if I didn't cynically ask whether or not "Chief" got a cash honorarium from OACP for his presentation. That would mean he got paid twice.