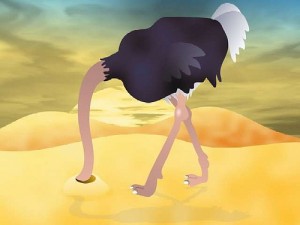 An alert Friend directed our attention to the Fullerton Observer's "reporting" of the recent Joe Felz/Danny Hughes Glenwood Ave. Road Rally. Here's the article. As usual the Observer does its level best to downplay the incident –  since for the Yellowing Observers City Hall can do no wrong. If you want, you can see it here. Below is a facsimile.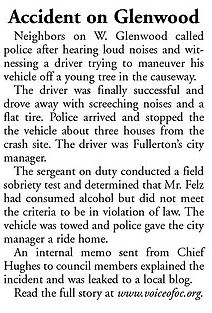 Let's enjoy some of the unintended hilarity.
First notice that neither the chief player in this drama, nor even his august title are mentioned in the headline, a rather glaring omission, one would think.
It is not until the end of the second paragraph that we discover the tree killer is our beloved city manager; and it wasn't until the next sentence that he is identified – only as "Mr. Felz."
None of the pertinent facts are shared: that Felz had been drinking; that he had tried to drive away; that he had been given a pass on the breathalyzer test that would have been forced on you or me, or even Sharon Kennedy, editor of this mess.
Ironically, Page 6 contains a saccharine farewell to Chief Dan Hughes, whose last official task as chief was to make sure his boss got a safe ride home and tucked into bed without the worry of an annoying and embarrassing DUI rap. Thanks for the solid, man!
"Leaked to a local blog." Ha ha! Yes, indeed! But no mention of the evil FFFF, where original and dangerous attitudes prevail! Jeez, even Sappy McTree got more shine than we did.
And finally: "…witnessing a driver (you mean THE driver) trying to maneuver his vehicle off the causeway."
Causeway? Just like The Observer of old: error riddled, incompetent, supine and illiterate.