The Bitterness of Negative Banter
What is "negative banter?"
I got a letter from Fullerton's Lobbyist-Mayor, Jennifer Fitzgerald congratulating "us" for rising above it by re-electing her. I love it when personal-agenda laden politicians complain about "negativity." Generally they are just reacting to embarrassing scrutiny they'd rather not have to endure.
Here's the missive: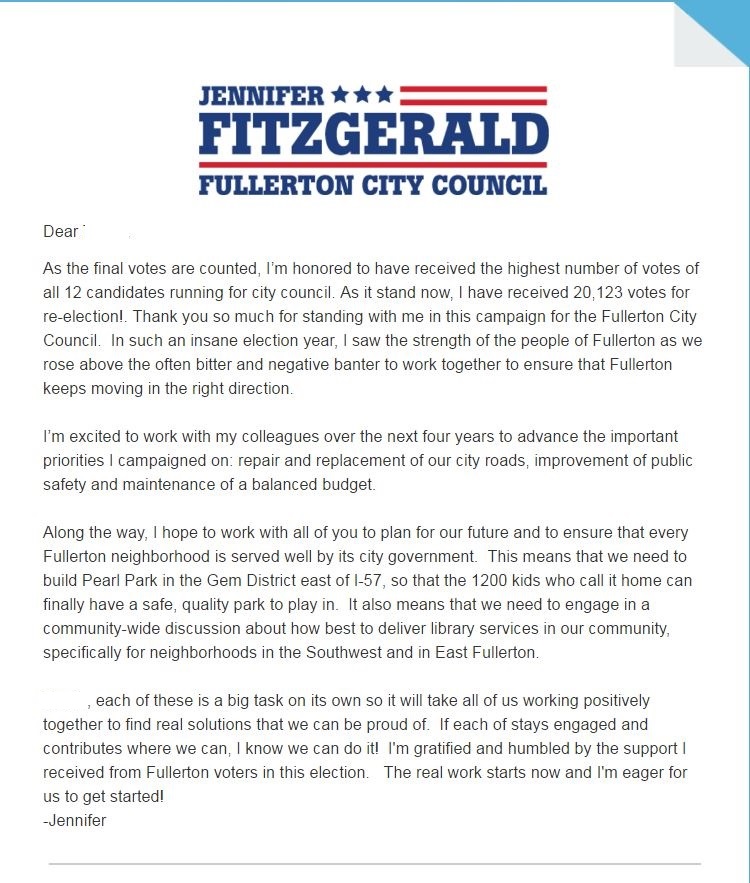 Ms. Fitzgerald is happy to share the issues she "campaigned on." Road repair, more, and higher paid cops, and get this… a balanced budget! Now we all know that Fullerton's budget has not been balanced since she got on the City Council four years ago. We've been leaking red ink worse than Laguna Lake has been leaking Grade A MWD water. The amount during Fitzgerald's tenure runs in the millions. So not only is she still lying about having a balanced budget, but any other pipe dreams like cops and parks are going to have to come at the cost of draining our reserve funds even more.
Of course this means nothing to Ms. Fitzgerald. After all she is all about politics, not governance. She is a Vice President of Curt Pringle & Associates, an operation that has tried its level best to rip off Anaheim taxpayers to benefit Pringle's clients. She will be long gone by the time Fullerton goes into receivership.
I really like the part about ensuring "that every Fullerton neighborhood is served well by its city government." I guess that excludes the people who live in and around downtown Fullerton: it was only recently carved up into five separate council districts by Ms. Fitzgerald and her downtown bar pals like a Christmas ham, precisely for the purpose of disenfranchising the residents while the drunken party rolls merrily along.
And then there's the part about having a "community-wide discussion" about providing library services for Southwest Fullerton. Quite delicious irony coming from the head of a city government that can't afford to keep the Hunt Branch Library open; or does she really believe nobody is paying attention?
Finally, I note that "working positively together" is code: what it really means is not criticizing the massive budget deficits; not complaining because there is no adult supervision over the cops; looking the other way as the Lobbyist-Mayor herself helps cover up the madcap motoring adventures of her City Manager returning home from her own election night party.
Well, you know, I just don't feel like it.
And now, Friends, please share any negative banter in the comments section we thoughtfully provide, below.