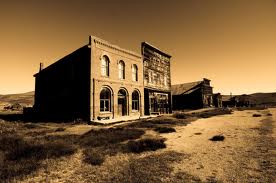 Remember the assertion by dithering dinosaur Don Bankhead that without Redevelopment, Fullerton would be a ghost town?
Or, to put it another way:
Is Fullerton doomed to become a ghost town? Bankhead thinks so or he wouldn't have said it, right?
Or could Fullerton become an incubator of interesting and profitable businesses run by people whose ideas are not grounded in government subsidies and write-downs, gifts, and grants? Old big-government liberals like Bankhead, Jones, and McKinley have more faith in central government economic intervention and subsidy than they do in any free market ideals. And that's how we ended up with a saloon in every other building in downtown Fullerton.
What do you think?