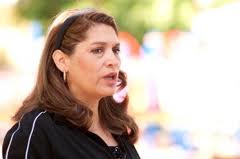 What is PORAC? The Peace Officers Research Associaion of California is a statewide cop lobby whose contributions go to provide legal aid and comfort to cops, good and bad. We learned about this "research association" last winter as it made a $19,000 contribution to the anti-recall campaign, a failed effort to protect the political hides of the three cop union puppets on the Fullerton City Council. PORAC is also paying the legal bills for the two Fullerton cops, Manny Ramos and Jay Cicinelli, who have been charged with the killing of the mentally ill homeless man, Kelly Thomas.
Now PORAC has a new project: promoting the dubious political fortunes of Sharon Quirk-Silva. Check out the list of supporters on her website.
Now that's a fine collection of educrats, far left leaning politicos that have helped tank California, and of course, unions that greased their skids. But really, Sharon, PORAC? Can you really be that clueless? Or is it just desperation?