Oh, Damn. Another FPD Brutality Lawsuit in Federal Court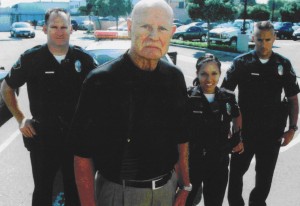 Nearly a year ago FFFF started what would turn into a long string of investigations into the FPD Culture of Corruption by telling the tale of a young man who claimed that he was beaten and abused by Fullerton cops during a downtown arrest.
There were plenty of skeptics here, and there was a barrage of personal abuse leveled against the man by anonymous FPD goons.  At least there was until we published the results of an internal investigation, here, in which at least part of the victim's assertions were confirmed.
Well last week another of Pat McKinley's chickens emerged on the horizon, coming home to roost. Andrew Trevor Clarke filed a federal civil suit against Fullerton PD employees Tong, Contino, Hampton, Bolden, Salazar and Sellers.
Sellers? Good call, but I wonder why Clarke didn't include former Chief, present councilman Pat McKinley. After all, he will proudly tell us he hired all of 'em.
All I can say is the lawsuits are piling up so fast we're going to need wings to stay above the legal paperwork. And I wonder how much this one is gonna cost us.