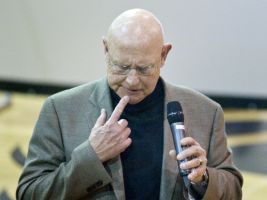 The day before the election seems like a real good time to replay this sparkling jewel of a video; the one in which Patdown Pat McKinley admits his own failure to lead. It's got to be real hard for any anti-recall stooges to suck up this one!! When you vote remember this McKinley proclamation: "Council people don't lead." 
Also, enjoy watching Patdown Pat's sociopathic neck ligaments strain as he utters the damning indictment "failure to lead."
– Joe Sipowicz
Here's an illuminating admission by soon-to-be-recalled Councilmember "Patdown" Pat McKinley. The accusation that he has failed to lead fails to resonate with McPension since he denies that he is on the City Council to be a leader. The snippet below was culled from a long interview with the good folks at FullertonStories, here.
Well, Friends, there you have it. And you have a great example of why it's almost always a bad idea to elect former staff members into political office.
And out of his own mouth McKinley admits and proclaims his own dismal failure to lead.