I Don't ♥ Fullerton Police
I am still struggling to get over the images from last week's city council meeting in which one city councilman donned an "I ♥ Fullerton Police" t-shirt while another declared proudly "I support the Fullerton Police Department." Another incongruous image also hard to clear from my mind: a city council chambers and adjoining room spilling over with people sporting the same t-shirts with the same baffling message.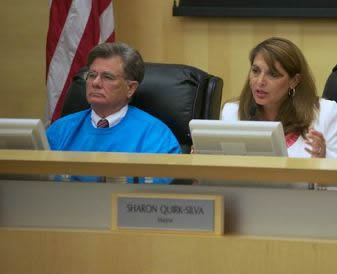 Mr. Chafee and Mayor Quirk-Silva, I hope you don't mind me telling you why I find these statements so inexplicable.

The Fullerton Police Department is an institution – an organization which hires individuals to enforce laws. In the last 16 months or so the number of reports of incidents of police misconduct and resulting lawsuits grew exponentially. The Kelly Thomas killing represented the brutality and savagery of out-of-control police, not merely locally, but globally. The brutally damaged face of Kelly dying in the hospital became an iconic image showing the depth of depravity to which law enforcement in our country has stooped. This was then followed by report after report of other victims of Fullerton police brutality: assaults, battery, false imprisonment, sexual assault, false arrest, perjury. Few if any of these crimes by the police were prosecuted, as if police officers in the City of Fullerton were far above the laws they ostensibly enforce. It wasn't that long ago.  OC Weekly did a whole cover story on "The Bullies in Blue." Do you remember? You should. Your police force was the shame of the nation.
I'm sure you remember the name Kelly Thomas, because the citizens have insisted that you don't forget. Do you remember the following names?  Veth Mam. Andrew Trevor Clarke. Edward Quinonez. Emmanuel Martinez.Christopher Spicer Janku. How about the nameless victims of Albert Rincon, Vincent Mater, John Cross, and many others whom you "support" and now publically ♥?
Mr. Chafee and Ms. Quirk-Silva, do you know there were others brutalized by the police who were too afraid to talk, even to us? That they told us stories of being randomly assaulted but refused to go public because of fear that they would be falsely accused and charged if they did? How many others are out there, severely assaulted, beaten, and tortured by "our" police?
These crimes were committed by individual members of the Fullerton police, but the lack of investigations, adequate disciplinary measures (would anything less than firing be appropriate when you look at the details of these cases?), or reports on what the department leadership is going to do to prevent these things from happening again has NOT been forthcoming. All we have as evidence that the department has supposedly reformed – righted these wrongs, fired the brutalizers, implemented mechanisms to ensure that none of this can happen again – is their word. Is that word really good enough, given the severity of the crimes?
We need some type of law enforcement in Fullerton, but we need law enforcement that does not commit harm against the public. This is not a political stance, this is a public right – as basic and elementary a right as we have. The public's right to safety from its own police comes before loyalty to an institution of government, before political alliances, before personal friendships with officers or officials, before the considerations of endorsements or campaign contributions or ideology or anything else. As elected officials you must serve the public and serving us means protecting us – in this case, from our police department who have shown that they are fully capable of inflicting grievous harm upon vulnerable citizens.
I do not understand how one can in good conscience embrace, love, or unconditionally support an institution that has a history of violently committing harm against the public. Voting your conscience or your beliefs on the issue of soliciting a bid from a rival law enforcement institution is one thing. Expressing love and support for an institution that has repeatedly hurt innocent members of the public, in front of a room swarming with police officers and their supporters, is a slap in the face to the victims and to the citizens of your city.