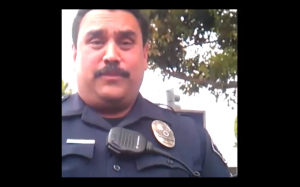 Back after a month in eastern Nevada, I picked up some information about Fullerton's cop union president.
We first met Barry Coffman on these pages as the carb-packing ticket writer for "excessive horning," a charge made up by the FPD as tickets were being handed out to honest citizens honking their horns in support of Kelly Thomas murder protesters outside the Fullerton Police Station. That strategy was organized by then Captain "Danny" Hughes who got to act as both bad cop and good cop all by himself by thoughtfully tearing up the tickets he himself had ordered handed out. Hughes and Coffman. What a team.
But back to the egregious Coffman, himself.
I have it on good authority that Coffman was re-elected  as head man of the Fullerton Police Officer's Association, proving that being an otiose fathead who won't even stick up for one of his own members is no obstacle to leadership in the FPOA.
Coffman had no opponent; apparently another cop challenged Coffman and was told he couldn't run without naming a Vice President candidate. Whether or not such nonsense is actually memorialized in the FPOA by-laws in anybody's guess, but I would bet not. Yes, the FPOA resembles nothing so much as a small, corrupt banana republic.