At the OC Weekly Nick Schou has uncovered an old article about the militarization of the Fullerton Police Department under Pat McKinley. The seminal event of the story takes place in 1997 and describes a military-style invasion of the Latino Maple neighborhood in response to a drive-by shooting along Harbor Boulevard.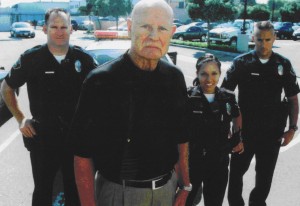 Since McKinley had cut his fangs on SWAT deployments up in Los Angeles it was just a matter of time before the bald badass brought his methods and manpower from the LAPD to Fullerton. The trouble with militarization, apart from the monetary cost of deployment, is the inevitable occupation mentality, and the concomitant "us versus them" mindset. When you watch the Veth Mam video this comes through loud and clear.
15 years later many of McKinley's scrofulous chickens have now come home to roost. I have to wonder how many incidents in Fullerton over the years were escalated into confrontations by the cops themselves. And I have to wonder what all of this is going to cost us.