FPD Harassment Up Close And Personal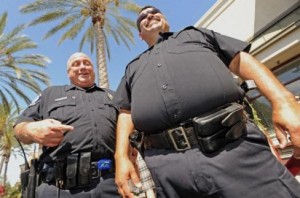 Friends, over the past couple of months you may have noticed anonymous comments on some of our posts referring to "George" and "Jorge" and some sort of hit-and-run issue. Those comments referred to my brother George and came from inside the FPD. I let them go. Then. But not now.
This is a cautionary tale about a Culture of Corruption in the FPD that encourages the harassment of law abiding citizens. Getting a ticket from Barry Coffman for "excessive horning" is bad enough. Getting prosecuted for a non-existing "crime" is intolerable. Unfortunately this sort of thing has become business as usual with the FPD. It appears to be not only tolerated, but encouraged. And that's what happens when the civilian authority abdicates its responsibility to oversee the cops.

Here's the story.
Back on the morning of February 28, 2011 my brother George was driving east down Walnut Avenue, and turned right into the driveway of our office building parking lot. A car had parked quite close to the entry of the driveway, and as he turned in he heard a distinctive sound. After parking he noticed that the front bumper of the car was lying in the street.
He was pretty sure he hadn't hit the car in any way, and there was no other damage to that car, or to his own vehicle; and he noticed that the bumper had been jerry-rigged at some point to stay on with sheet metal screws. He believed his right front tire just hit the thing as it lay in the roadway.
George kept watch on the car, and later in the afternoon a woman came to pick it up. He explained the situation and told Mrs. Bumper that he didn't think he was responsible, but that he would help put the bumper back on with secure connections to the chassis the next day. She was grateful and drove off.
The next day her husband showed up and demanded that George buy him a new bumper. George suggested he go away and take his bumper with him.
Mr. Bumper filed a police report and soon George was interrogated by a couple of FPD cops. He told his story for the third time. The next thing he knew he was being charged by the District Attorney with Hit and Run, Unsafe Turn and Illegal Tampering With A Vehicle!
Story recap: No hit. No run. No unsafe turn. No tampering. No evidence. No witness. No nothing. Yet our esteemed DA, following the advice of FPD, had decided to prosecute my brother.
Of course George had to hire a lawyer who made six different court appearances on this idiotic "case." Finally the DA blinked and offered George the DNA "spit and acquit" deal he makes with campaign-contributing food poisoners. George said no. With a trial date looming the DA's office just dropped the whole thing on September 20th.
Too bad, in a way. I really looked forward to seeing those FPD clowns on the stand to explain and defend their evidence. Now the public will never see the facts behind what can only be described as a malicious attempt to intimidate and harass me through my brother.
Well, guess what, boys? It didn't work.
How much police, DA and court time and money was completely wasted in this effort to try to push around a citizen and taxpayer? Who knows? Five different DA employees had their spoons in this soup, as well as judges, bailiffs, court scribes, etc.
But I know one thing. There is an entrenched Culture of Corruption in the Fullerton Police Department that runs pretty deep, and it needs to end soon!