Cops Got Scratches Tended To By Paramedic As Kelly Thomas Lay Dying in the Street
One of the most shocking things to emerge from the Preliminary Trial of Manny Ramos and Jay Cicinelli for the killing of Kelly Thomas are the statements made by Fullerton Fire Department personnel that the cops received attention to their miscellaneous scrapes as Thomas, whose face had just been bashed in, and who was suffocating in his own blood, lay ignored nearby.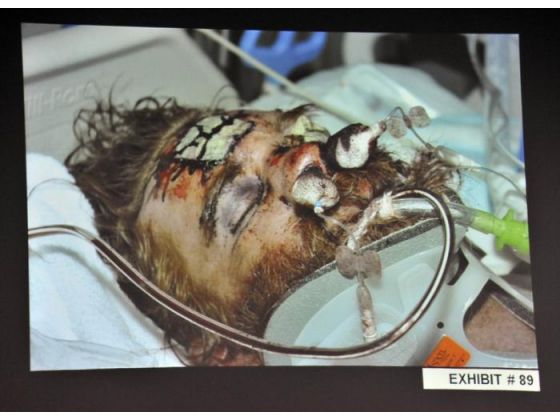 For pure callousness, incomprehensible inhumanity, and well, evil, it's pretty hard to beat this story. The images of minor scratches sustained by the Fullerton cops is comical, especially given the fact that were sustained committing a crime; juxtaposed to the image of Kelly Thomas's shattered face they present ample evidence about the nature of the beat down delivered to the homeless man.
Hilariously, Manny Ramos was quoted as saying he'd been in "the fight of my life." Given that he was seventy pounds overweight, notoriously lazy and obviously a coward, this may actually be a true statement. Certainly it will provide a good headline for Lou Ponsi. But Ramos' injury received a bandaid and off he went. Kelly Thomas is dead. He was dying on the pavement, alone and unattended, as the cops that killed him got first aid.
And that is truly sickening.