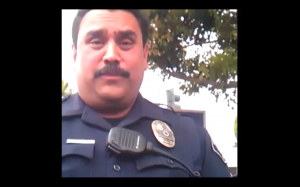 Echoing the sentiments of his boss and apparent mentor, Acting Police Chief Dan Hughes, Fullerton cop union leader Barry Coffman says those who characterize the FPD as having a corruption problem are misinformed. Here are his exact words from a Register article.
"I think they are misinformed," Coffman said about anyone saying the department has had corruption. "They don't know what corrupt is. … They take this Kelly Thomas incident and say there has been a cover-up. Just because they didn't get information when they wanted it, they conclude there is corruption."
Predictably, Coffman chooses to gloss over the long string of malfeasance perpetrated by members of the FPD, mostly card-carrying members of his own union. See, Barry is suddenly confronted with the very real possibility that Fullerton might consider outside offers to take over policing in Fullerton, offers that could save as much as $10,000,000, annually.
Well, Mr. Excessive Horning has a selective and self-serving memory. I don't. Here's what I remember from just the past year:
Albert Rincon – Accused of multiple sexual assaults. City styles two cases for $350,000.
Todd Major – Fraud. Ripped off Explorers.
Kelly Mejia – Grand theft.
Miguel Siliceo – misidentification of suspect. Wrong guy spends 5 moths in jail.
Vince Mater – Charged by DA with destruction of evidence in jail suicide case.
Manuel Ramos – Accused of assaulting disabled man in June, 2011.
Kenton Hampton – Accused of battery and false arrest against Veth Mam and Edward Quinonez. Cooked up story to attempt to convict Mam. Jury acquits Mam.
Frank Nguyen – bogus testimony in Mam case.
Robert "Go home or go to jail" Kirk – Threatens law abiding citizens with jail for watching the FPD at work. Later spotted in the "excessive horning" debacle.
Perry Thayer – accused of roughing up downtown visitor
Cary Tong – ditto
April Baughman – stole from the FPD property room for two years before getting caught. Hmm. No accomplices? No inventory?
Andrew Goodrich – peddled falsehoods about the Kelly Thomas killing that were never retracted.
Barry Coffman(!) – proud participant in Dan Hughes' excessive horning scam.
Tom "Tango" Basham – allegedly the watch commander the night of the Thomas murder, and player #1 in the subsequent cover up.
Christopher Wren – off the hook in the Rincon assaults, but plead no contest to "false imprisonment" against some kid in the IE – bargaining down battery charges. Anger management took care of his legal problems. Ours are still pending.
Dan Hughes – boss of all the above
Etc., etc.
Of course the "incident" with Kelly Thomas stands in a class by itself for malicious, incompetence, and murderous thuggery. We will always remember the names Ramos, Wolfe, Cicinelli, Blatney, Craig. Oh and let's not forget our old friend Hampton.
Say, Barry, tell us again who is misinformed?