Barry Coffman: FPD Has A Cancer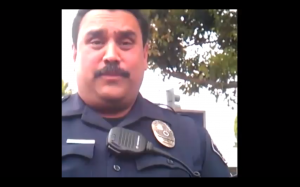 Yep, he said it. In reference to his own union member, Benjamin Lira.
Listen to the Barry Coffman interview on KFI, here. Scroll to the 23:40 mark and enjoy the Fullerton cop union boss try as hard as he can to bad-mouth a dues paying member of the FPOA!
First he says Lira is on the way out, a POBAR violation if uttered by anybody in authority; and of course after the embarrassing question about how come he isn't defending his union member, and an awkward pause, we learn from Barry that Lira is a real malcontent, a cancer in the presumably healthy body tissue of the FPD. Which is pretty hard to swallow given the evident  Culture of Corruption in the department.
Comically, Coffman asks us who are we to believe, his own man, or the upstanding Michael Gennaco Report – a bucket full of pabulum coughed up by a paid hack in order to whitewash the felonious FPD and its command structure.
Say, what's going on here? A union boss siding with management? Huh?
In response to the tricky question about how come his union didn't bail out Ramos, Coffman (after another painful pause) exclaims that he and his boys just wanted the justice system to play out, a non-answer if ever there was one. He does admit that when the Thomas murder hit he and his fellow FPOA leaders were completely useless. We do know that they came onto this blog to post vulgar obscenities.
It's hard not to relish the delicious double standard of the oh-so-ethical Barry C who never said a single word in public about Todd Major, Kelly Mejia, Albert Rincon, Vincent Mater, Kenton Hampton, Frank Nguyen, Cary Tong or any of the other FPOA miscreants whose behavior has been so amply demonstrated on these pages.